Hawkeye Fan Shop — A Black & Gold Store | Hawk Talk Monthly — Feb. 2017 | 2017 Football Season Tickets | KinnickEdge.org | A VIDEO — A Look Toward the 2017 Season | Swarm17 Signing Day Show | Signing Day Central
Editor's Note: The following first appeared in the University of Iowa's Hawk Talk Daily, an e-newsletter that offers a daily look at the Iowa Hawkeyes, delivered free each morning to thousands of fans of the Hawkeyes worldwide. To receive daily news from the Iowa Hawkeyes, sign up HERE.
By RICK BROWN
hawkeyesports.com
IOWA CITY, Iowa — Recruiting is Reese Morgan's fountain of youth.
 
"It keeps you young," said Morgan, 66, who has been on head coach Kirk Ferentz's University of Iowa football staff since 2000. "I get a car, I drive around the state, and stay in some of the finest Super 8 motels."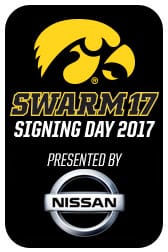 Morgan leaves no stone unturned, finding players that other schools often miss. Big town, small town, it doesn't matter. Players like Chad Greenway, Brett Greenwood, Drew Ott, Nathan Bazata, Josey Jewell, and Matt VandeBerg. That's just a sample.
 
"He certainly doesn't miss many," said Ferentz, who will introduce his latest class of signees Wednesday. "And he gets excited about it, too."
 
The secret to Morgan's success can be found behind the wheel, not on the phone.
 
"He thinks the best way is to do it by himself," Ferentz said. "And do it face-to-face. So he covers a lot of territory. He's a unique person, a special guy."
 
Iowa prides itself on being a developmental program, turning prospects into players under the watch of strength and conditioning coach Chris Doyle in the offseason and the coaching staff during the season. Five-star recruits are rarely part of Iowa's football DNA.
 
Five-star hotels are also not part of the picture when it comes to Morgan's pursuit of players.
 
"Everybody does it their own way, and Reese takes pride in staying in hotels where the curtains are blowing when the wind blows," Ferentz said. "He'll go anywhere, at any time, in any weather. He's funny, but he's driven. He does whatever he has to do, and he's good at it."
 
Morgan recruits the states of Iowa, Nebraska, North Dakota, and South Dakota. He's always looking for multi-sport athletes, which often translates to Big Ten football players.
 
"You identify guys who have the characteristics you're looking for," Morgan said. "They have a passion for the game, they're tough, they take pride in what they do, and they've been successful in multiple sports. So you have a little formula."
 
Morgan has never been hung up on the size of school a prospect is playing at. He's found his share of gems in small towns.
 
Like Mount Vernon, South Dakota, where Greenway played nine-man football. Or Trumbull, Nebraska, where Ott played eight-man football. Both Greenway and Ott stood out in multiple sports, a big check mark on Morgan's evaluation chart.
 
"Nobody bats 1.000," Morgan said.
 
Sometimes, first impressions are false barometers.
 
"Drew Ott was a first-team all-state player who played in the state championship, he was player of the year in basketball, threw the shot 55 or 56 feet, was a 3.5 student, and very tough," Morgan said. "The first time he came to camp here and he put his hand down, we were questioning our decision. I remember the same things with Chad Greenway."
 
Morgan was running behind schedule as he drove to the Corn Palace in Mitchell, South Dakota, to see Geenway's basketball team play Mitchell Christian. He got pulled over by police, who asked why he was in such a hurry. When he told them he was going to see Greenway, a prep legend, the officer escorted Morgan to the Corn Palace.
 
"I watched the game, and he didn't dominate," Morgan said. "There was another guy on his team who looked better than him. So I thought, 'Did I screw up?' Thank God he came here, and we were lucky enough to be around him."
 
Morgan still gets a charge out of walking into a high school, visiting with the secretaries, meeting a prospect, his family and coaches, and starting to establish a relationship.
 
"For me that's energizing," Morgan said.
 
Ferentz has learned over time that when Morgan brings a prospect to him, he needs to listen.
 
"Reese is like the master of side attacks," Ferentz said. "He doesn't hit you right in the nose with it, typically. I've learned that when Reese mentions a guy's name there's something there. You go right down the list. Josey is one of those guys I know Reese had a feeling about."
 
Less than a week before signing day in 2013, Jewell didn't know what he was going to do. The Decorah (Iowa) High School all-stater had been offered book money by Northern Iowa, and was considering playing alongside his brother at Luther College.
 
But three days before signing day, Morgan convinced Ferentz to offer Jewell a scholarship that the lifelong Hawkeye fan quickly accepted. Jewell heads into his senior season as one of the Big Ten's elite linebackers.
 
Morgan, an Ohio native, came to Iowa to play football at Wartburg College and never left. His resume includes success as a head coach at Benton Community and Iowa City West. That's where he was when Ferentz called and offered a job.
 
When Morgan's wife, Jo, told him Ferentz was on the phone, Morgan thought someone was playing a joke on him.
 
"I made some snide comment and he says, 'Hi, coach, this is Kirk,' " Morgan recalled. "I won't tell you what I said after that."
 
Morgan heads into his sixth season as Iowa's defensive line coach after serving as offensive line coach for nine seasons and his first three as tight ends coach and recruiting coordinator.
 
"If he ever hangs it up, we'll have to hire three guys to replace him," Ferentz said. "I can't tell you how many things he does for us. He's a master teacher and a model human being."
 
He's also pretty good at finding football players…and overnight accommodations that are easy on the budget.
 
"It's kind of fun when you find a rare gem," Morgan said.
 
That goes for hotel rooms and football players.