Hawkeye Fan Shop — A Black & Gold Store | 24 Hawkeyes to Watch 2016-17 | Hawk Talk Monthly — Feb. 2017 | 2016-17 Women's Basketball Media Guide | Hawk Talk with Lisa Bluder
By DARREN MILLER
hawkeyesports.com
IOWA CITY, Iowa — The University of Iowa women's basketball team is playing at home Thursday and the Hawkeyes are taking on Rutgers, led by legendary head coach C. Vivian Stringer.
 
Those are good reasons to attend the 7 p.m. (CT) game inside Carver-Hawkeye Arena. But here's more: there will also be a celebration of National Girls and Women in Sports Day with gender equity pioneer Dr. Christine Grant in attendance.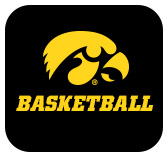 "There is nobody who has provided more opportunities for women and fought harder than Dr. Grant," Iowa head coach Lisa Bluder said Tuesday during a teleconference. "It is an important day — we want to have a great performance and a great crowd."
 
All UI female student-athletes are invited to attend and sign autographs pregame. Girls are invited to sit and mingle with the Hawkeyes in the student section during the game.
 
"It could be a fun atmosphere where young girls can come and meet terrific role models from all the athletic programs," Bluder said.
 
The main event will still be the action on Mediacom Court. Since their first meeting Jan. 17 — a 71-59 win by Iowa in Piscataway, New Jersey — the Hawkeyes (13-8 overall, 4-4 Big Ten) have won 2-of-3 games and Rutgers (6-16, 3-6) has dropped three in a row. How important is this and every Big Ten game from here on? Just 2 ½ games separate the eight teams sitting fourth-through-eighth in the league standings.
 
"There is a lot of basketball still to be played," Bluder said. "We have eight games left in our conference season, plus the conference tournament. There is such a traffic jam in our conference, it will be tough for the (NCAA) selection committee to pick who will receive at-large bids. Every game is important, that's why Thursday is so important to us."
 
In the first meeting at Rutgers, Iowa shot well from the field (62.5 percent) and got to the free throw line 24 times (making 19). The Hawkeyes will focus on rebounding after allowing 23 offensive rebounds and 19 second-chance points to the Scarlet Knights on Jan. 17.
 
"We have to have a great defensive effort because it could pay off in this game," Bluder said. "Sometimes (Rutgers has) had trouble shooting the ball. We need them to take hard 2s."
 
Iowa returns to action after a road trip at No. 3 Maryland where the Hawkeyes lost, but scored 81 points, shot 46 percent from the field, and had four fewer turnovers than the Terrapins. Freshman guard Kathleen Doyle scored a career-high 21 points on 8-of-12 shooting (3-of-4 from 3), with five assists and three steals.
 
"Kathleen was outstanding," Bluder said. "It was the best game of her career thus far and gives you a glimpse of the potential and what she can accomplish. Our team fought, and fought, and fought and never gave up, that's all I can ask. I think we will be more prepared for Rutgers because of that experience."
 
Now they are pursuing a third victory in their last four outings.
 
Thursday's contest will be televised by BTN Plus and broadcast live on the Hawkeye Radio Network with Rob Brooks and Jamie Cavey Lang on the call.