Hawkeye Fan Shop — A Black & Gold Store | 24 Hawkeyes to Watch 2016-17 | Hawk Talk Monthly — January | Week 4 Notes
THIS WEEK FOR THE HAWKEYES
The University of Iowa women's tennis team hosts a doubleheader Sunday against Iowa State at 2:30 p.m. (CT) and Montana at 6 p.m. (CT) at the Hawkeye Tennis and Recreation Complex. Admission is free. Both matches can be seen live at hawkeyesports.com/playsight.Fans can also view http://bit.ly/2jwmYBi for live stats for the Iowa State match, and http://bit.ly/2ksE8z5 for live stats for the Montana match. 
QUOTING @SashaSchmid
"We are staying focused this week and looking forward to two more great opportunities to compete vs Iowa State and Montana."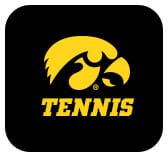 HAWKEYES SWEEP HUSKIES
The University of Iowa women's tennis team blanked Northern Illinois, 7-0, at the Hawkeye Tennis and Recreation Complex last week. The win marked the second match in a row that the Hawkeyes swept their opponent.
TAKING ON THE CYCLONES
The Cyclones have started the 2017 season, 2-1. They are coming off of back to back wins over Villanova (6-1) and Lehigh (6-1). The Hawkeyes lead the overall series, 35-0. The last time these two teams met was in 2015. Iowa won that match, 4-1. This match marks the 14th event of the 2016-17 Cy-Hawk series. Iowa leads the series, 14-7.  
TAKING ON THE GRIZZLIES
The Grizzlies have started the 2017 season, 1-1. They got their first win of the season last week against Lewis-Clark State (7-0). The Hawkeyes have faced Montana twice in program history. Iowa has won both matches. 
NO.1 SINGLES DOMINATION
In each of the Hawkeyes' first three matches van Heuvelen has won the No. 1 singles match. She was a three-set winner in her Hawkeye debut at UCF and dominated her second match against Creighton, winning in straight sets, 6-0, 6-1. She won her third match against Northern Illinois in straight sets last weekend, 6-2, 6-2.  
UNDEFEATED HAWKEYES
Six Hawkeyes have started the 2017 season undefeated. Elise van Heuvelen, Zoe Douglas, Anastasia Reimchen, Aimee Tarun, and Kristen Thoms have all started the season, 3-0. Montana Crawford won her first match of the season last weekend giving her a 1-0 record.  
HOME COURT ADVANTAGE
The Hawkeyes are 2-0 at home to start the 2017 season. They have seen success at the Hawkeye Tennis and Recreation Complex over the years. Iowa has finished .500 or better at home each of the last five seasons. Seven of Iowa's 10 nonconference matches are at home.  
                                
DEADLY DOUBLES WITH DOUGLAS 
University of Iowa junior Zoe Douglas has been the common denominator on Iowa's top doubles team. She opened the 2017 season with consecutive doubles victories with freshman Elise van Heuvelen at the No. 1 doubles position. Douglas and junior Anastasia Reimchen were 7-5 last season and reached as high as No. 49 in the country. Their biggest win of the season was a 6-2 victory over Ohio State's third-ranked Miho Kawase and Anna Sanford. Douglas and Reimchen opened the fall season ranked No. 45, but they did not see court time together. Instead, Douglas put together an 11-5 record with van Heuvelen. Douglas has a 41-29 career record in doubles. 
BECOME A FAN
Fans can follow the Iowa women's tennis team at facebook.com and via twitter 
@Iowa_Tennis. Live results from this weekend are available on the Iowa women's tennis schedule page at hawkeyesports.com.