Hawkeye Fan Shop — A Black & Gold Store | Hawkeyes in the NBA | Hawk Talk Monthly — February
IOWA CITY, Iowa — University of Iowa point guard Jordan Bohannon was named Big Ten Freshman of the Week, it was announced Monday by the conference office.
 
Bohannon (6-foot, 182 pounds) led Iowa to a pair of victories last week over Rutgers (83-63) and Nebraska (81-70). The native of Marion, Iowa, averaged 16 points, three assists, 2.5 rebounds, and one steal in the two games. He shot a blistering 69 percent from 3-point range, making nine of his 13 attempts. Bohannon's 3-point barrage helped him break Iowa's single-season 3-point field goal record by a freshman. He has made 54 this season, breaking the previous mark of 52 by Matt Gatens in 2009.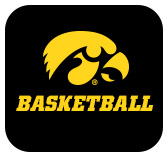 Bohannon helped engineer Iowa's offense at Rutgers, posting the Hawkeyes' first true road victory of the season. Bohannon had a game-best 17 points, making 5-of-7 from long distance, and dished out four assists with no turnovers.
 
In Iowa's win over Nebraska on Sunday in Iowa City, he tallied a team-best 15 points, making 4-of-6 from 3-point range, and equaled a personal-best five rebounds to go along with two assists and one steal.
 
The honor is the first of Bohannon's career and marks the fourth time a Hawkeye men's basketball player has earned weekly praise by the Big Ten Conference. Peter Jok was named Player of the Week on Nov. 21 and Dec. 12, while Isaiah Moss was tabbed Freshman of the Week on Dec. 12.
 
Bohannon and the Hawkeyes return to action on Wednesday at Minnesota. Tipoff is set for 8:06 p.m. (CT) at Williams Arena in Minneapolis.