Hawkeye Fan Shop — A Black & Gold Store | 24 Hawkeyes to Watch 2016-17 | Hawk Talk Monthly — February | Week 7 Notes (PDF)
THIS WEEK FOR THE HAWKEYES
The University of Iowa women's tennis team hosts Evansville at 10 a.m. (CT) and Western Illinois at 1 p.m. (CT) on Saturday in a doubleheader at the Hawkeye Tennis and Recreation Complex. Admission is free. Both matches can be seen live at hawkeyesports.com/playsight. 
QUOTING @SashaSchmid
"We want to take advantage of our final two matches before Big Ten play begins by playing focused intentional tennis on Saturday. We are looking forward to competing and pushing ourselves to get better with each match."
HAWKEYES RANKED NO. 48 IN ITA
The University of Iowa women's tennis team debuted at No. 48 in the first computerized national team rankings released Tuesday. The Hawkeyes are one of five Big Ten Conference teams in the Oracle/ITA Collegiate Tennis National Team Rankings top 50. They're joined by Ohio State (2), Michigan (4), Northwestern (32), and Maryland (42).
TRAVEL TRUMPED BY TEXAS FORECAST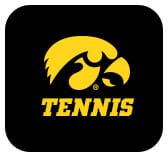 An unfavorable weather forecast in the Dallas area canceled the University of Iowa women's tennis team's match at UT-Arlington that had been scheduled for Sunday at 11 a.m. (CT).
TAKING ON THE PURPLE ACES
The Purple Aces have a 2-4 record. Their two wins came against Murray State (4-3) and Valparaiso (7-0) . Evansville has suffered two 4-3 losses this season to Austin Peay and Indiana. The Purple Aces have a 1-3 road record. This will be the first match between Iowa and Evansville.
TAKING ON THE LEATHERNECKS
The Leathernecks enter the weekend with a 6-7 record. They picked up their sixth win last weekend when they defeated Illinois-Springfield, 7-0. Western Illinois and Iowa have each faced Northern Illinois and Creighton. The Hawkeyes won both matches, 7-0. The Leathernecks suffered a 7-0 loss to Creighton and a 6-0 loss to Northern Illinois. Iowa leads the overall series, 10-0.
REIMCHEN/THOMS REMAIN UNBEATEN
Junior Anastasia Reimchen and sophomore Kristen Thoms are still yet to lose a singles match. Reimchen has started the season 6-0 and Thoms has a team-best 7-0 start to the season. In addition to her 7-0 singles start, Thoms has also posted a 4-0 doubles mark. Montana Crawford (4-0) and Aimee Tarun (3-0) are also unbeaten in singles play this season. 
CHASING HISTORY
The University of Iowa women's tennis team is off to its best start since 2008. The Hawkeyes currently sit at 7-0 and look to move to 9-0 this weekend. The best start in program history came in 1990 when the Hawkeyes started, 12-0.  
DEADLY DOUBLES WITH DOUGLAS
University of Iowa junior Zoe Douglas has been the common denominator on Iowa's top doubles team. She opened the 2017 season with five consecutive doubles victories with freshman Elise van Heuvelen at the No. 1 doubles position, and recorded one victory with senior Natalie Looney. Douglas and junior Anastasia Reimchen were 7-5 last season and reached as high as No. 49 in the country. Douglas has a 45-29 career record in doubles. 
UP NEXT FOR THE HAWKEYES
The Hawkeyes begin Big Ten Conference play next as they they take on Maryland at 1 p.m. (CT) Saturday in College Park, Maryland. From there the Hawkeyes will travel to Annapolis, Maryland to face Navy at noon (CT) on Sunday.  
BECOME A FAN
Fans can follow the Iowa women's tennis team at facebook.com and via twitter 
@Iowa_Tennis. Live results from this weekend are available on the Iowa women's tennis schedule page at hawkeyesports.com.