Hawkeye Fan Shop — A Black & Gold Store | 24 Hawkeyes to Watch 2016-17 | Hawk Talk Monthly — February | Box Score (PDF) | Box Score (PDF)
Iowa City, Iowa — The University of Iowa women's tennis team made history Saturday when it defeated Evansville (6-1) and Western Illinois (7-0) giving them a 9-0 record. The Hawkeyes 9-0 start marks the second best start in Iowa women's tennis history. The best start in program history came in 1990 when the Hawkeyes won their first 12 matches.
"I think knowing that we only had one match left before Big Ten was enough motivation for them today." Said UI head coach Sasha Schmid. "They are really excited to start Big Ten play next and they want to make sure they are sharp, and they are excited to be competing."
The Hawkeyes started the day winning the doubles point against Evansville. Freshman Elise van Heuvelen and junior Zoe Douglas were first off the court defeating Andjela Brguljan and Daria Penstova, 6-1. Seniors Aimee Tarun and Natalie Looney secured the doubles point when the defeated Andrea Pascual-Larri and Chieko Yamada, 6-2.  
Iowa continued the winning in singles taking six straight matches. Junior Anastasia Reimchen was first off the court defeating Nicoli Pereira in straight sets, 6-0 6-0. Tarun was next off the court also winning in straight sets.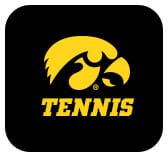 Van Heuvelen took the No. 1 singles match defeating Chieko Yamada, 6-3 6-0. Sophomores Kristen Thoms and Adorabol Huckleby took their matches in straight sets. Thoms defeated Daria Pensova, 6-0 6-3, and Huckleby beat Andrea Pascual-Larri, 6-1 6-4, giving Iowa the 6-1 victory and an 8-0 record for the first time since 2008.
The Hawkeyes continued their winning ways in the second match against Western Illinois. Douglas and van Heuvelen took the No. 1 doubles match defeating Courtney Lubbers and Jenna Wallace, 6-0. Tarun and Looney won their second doubles match of day defeating Cary Milanes and Anna Daniel Fuentes, 6-1.
Reimchen got the Hawkeyes started in singles play defeating Anna Daniel Fuentes in straight sets, 6-0 6-1. Montana Crawford would follow winning the No. 5 singles match, 6-0  6-2.
Van Heuvelen was third off the court against Western Illinois. The freshman defeated Courtney Lubbers 6-2 6-0, to give Iowa the win and its best start since 1990.
After dropping a tough first match against Evansville, Douglas bounced back to defeat Natalia Bravo in straight sets, 6-2 6-1. Thoms won her second match at the No. 4 singles position when she defeated Laura Ballesteros, 6-3 6-1.
Looney finished the day for the Hawkeyes winning at the No. 6 position. The senior defeated Cary Milanes 6-3 6-4 to give Iowa the 7-0 victory.
The Hawkeyes start Big Ten Play next week as they take on No. 42 Maryland in College Park, Maryland at 1 p.m. (CT) on Saturday. Iowa will then travel to Annapolis, Maryland to face Navy at noon (CT) on Sunday.
 
 
 
 
Iowa Hawkeyes 6, University of Evansville 1
 
Singles competition
1. Elise Van Heuvelen (IOWA) def. Chieko Yamada (UE) 6-3, 6-0
2. Diana Tkachenko (UE) def. Zoe Douglas (IOWA) 6-7, 6-3, 10-5
3. Anastasia Reimchen (IOWA) def. Nicoli Pereira (UE) 6-0, 6-0
4. Kristen Thoms (IOWA) def. Daria Pentsova (UE) 6-0, 6-3
5. Adorabol Huckleby (IOWA) def. Andrea Pascual-Larri (UE) 6-1, 6-4
6. Aimee Tarun (IOWA) def. Andjela Brguljan (UE) 6-1, 6-1
 
Doubles competition
1. Elise Van Heuvelen/Zoe Douglas (IOWA) def. Andjela Brguljan/Daria Pentsova (UE) 6-1
2. Kristen Thoms/Adorabol Huckleby (IOWA) vs. Diana Tkachenko/Nicoli Pereira (UE) 3-3, unfinished
3. Aimee Tarun/Natalie Looney (IOWA) def. Andrea Pascual-Larri/Chieko Yamada (UE) 6-2
Match Notes:
Order of finish: Doubles (1,3,2); Singles (3,6,1,4,5,2)
 
Iowa Hawkeyes 7, Western Illinois 0
 
Singles competition
1. Elise Van Heuvelen (IOWA) def. Courtney Lubbers (WIU) 6-2, 6-0
2. Zoe Douglas (IOWA) def. Natalia Bravo (WIU) 6-2, 6-1
3. Anastasia Reimchen (IOWA) def. Anna Daniel Fuentes (WIU) 6-0, 6-1
4. Kristen Thoms (IOWA) def. Laura Ballesteros (WIU) 6-3, 6-1
5. Montana Crawford (IOWA) def. Jenna Wallace (WIU) 6-0, 6-2
6. Natalie Looney (IOWA) def. Cary Milanes (WIU) 6-3, 6-4
 
Doubles competition
1. Elise Van Heuvelen/Zoe Douglas (IOWA) def. Courtney Lubbers/Jenna Wallace (WIU) 6-0
2. Kristen Thoms/Adorabol Huckleby (IOWA) vs. Natalia Bravo/Laura Ballesteros (WIU) 2-2, unfinished
3. Aimee Tarun/Natalie Looney (IOWA) def. Cary Milanes/Anna Daniel Fuentes (WIU) 6-1
Match Notes:
Order of finish: Doubles (1,3,2); Singles (3,5,1,2,4,6)