Hawkeye Fan Shop — A Black & Gold Store | 24 Hawkeyes to Watch 2016-17 | Hawk Talk Monthly — Feb. 2017 | Notes – Iowa State
IOWA CITY, Iowa — The No. 14 University of Iowa women's gymnastics team is set to host Iowa State on Saturday at 11 a.m. (CT) in Carver-Hawkeye Arena for the Iowa Corn Cy-Hawk Series. Doors open at 10 a.m. The meet will also be televised on Big Ten Network.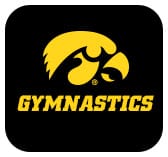 "I'm looking forward to having a massive crowd," said UI head coach Larissa Libby. "The Cy-Hawk series tends to bring out this rivalry and a really great crowd for us. The atmosphere is electric. It makes such a big difference. When you're at home in front of your friends, fans, and family, the pride that you feel as a GymHawk and as part of the university is unlike anything else. To be back at home and to make our fans feel that excitement and to draw them into all of our performances is really special for us. We're looking forward to providing a great show for the fans who have supported us all year long.
 
"We don't have any other sports at home on Saturday. We're excited to being back home after a very difficult time on the road. We are looking forward to having those same type of successful performances back at home."
 
The Hawkeyes enter this week with an 11-5 overall record and a 4-1 conference record. Iowa is tied for first in the Big Ten and ranked No. 14 nationally with a regional qualifying score (RQS) of 196.150. The GymHawks rank 16th nationally on bars (49.055 RQS) and on beam (49.110), 18th on floor (49.100), and 24th on vault (48.945).
 
Iowa earned its 11th win of the season against BYU on the road last Friday with a season-high 196.550. Freshman Charlotte Sullivan took the all-around title with a career-high 39.200. Three GymHawks earned titles with season highs. Sophomore Misty-Jade Carlson finished on top of the podium on vault with a season-high 9.850, senior Nikki Youd finished first on beam with a career-high 9.925, and junior Lanie Snyder took the title on floor with a career-high 9.925. Youd and Snyder's scores tie for third-best in Iowa history on beam and floor, respectively.
 
Iowa State is ranked No. 27 nationally with an RQS of 195.550 and an overall record of 10-3. The Cyclones are ranked 27th on bars (48.915 RQS), 29th on beam (48.805), and 32nd on vault (48.825) and floor (48.965). The Cyclones finished second overall in a tri-meet against West Virginia and Maryland with a 195.950 last Sunday to register their tenth win of the season. Junior Haylee Young leads the team ranked No. 14 nationally in the all-around with an RQS of 39.335. Young leads the Cyclones in three events, as she is ranked 20th on floor (9.890 RQS), 54th on beam (9.850), and 60th on vault (9.825).
 
Saturday is a Blackout. The first 250 fans will receive a free black t-shirt. The meet also marks Senior Day and Girl Scouts Day. The team's five seniors will be honored after the meet with a presentation. Girl Scouts will have the opportunity to meet and have their picture with the GymHawks after the meet. Saturday is also Student Day, and all University of Iowa students will receive free admission and a free hot dog at the meet.
 
One hour prior to the start of the meet, there will be Hot Dog Happy Hour where fans can purchase hot dogs for only one dollar. The Kids Zone will be available for young Hawkeye fans and will include tattoos, trivia questions, and building snowflakes. Fans will also have the opportunity to sign the "I Am" Banner. Additionally, a few lucky fans will be selected for the "Best Seat in the House" with floor seats.
 
Fans can follow along with the GymHawks as they take on Iowa State on Saturday through live stats on hawkeyesports.com or by following @IowaGymnastics on Twitter and Instragram or on Facebook at facebook.com/iowagymnastics. Fans can also watch on the Big Ten Network.