Hawkeye Fan Shop — A Black & Gold Store | 24 Hawkeyes to Watch 2016-17 | Hawk Talk Monthly — February | Week 8 Notes
THIS WEEK FOR THE HAWKEYES
The University of Iowa women's tennis team travels to College Park, Maryland, to face the No. 43 Terrapins at 1 p.m. (CT) in its first Big Ten match of the season. The No. 47 Hawkeyes will then face Navy on Sunday at noon (CT) in Annapolis, Maryland. 
QUOTING @SashaSchmid
"Our approach will be the same as it has been all season in terms of every single day having a high intensity practice that we get better at, and look at the next opportunity on the schedule to get better." 
HAWKEYES RANKED NO. 47 IN ITA
The University of Iowa women's tennis team moved up one spot to No. 47 in this week's International Tennis Association's national team rankings. The Hawkeyes are one of only five Big Ten Conference teams in the Oracle/ITA Collegiate Tennis National Team Rankings top 50. They're joined by Ohio State (2), Michigan (4), Northwestern (38), and Maryland (43).
VAN HEUVELEN NAMED B1G ATHLETE OF THE WEEK 
Elise van Heuvelen was named women's tennis Big Ten Athlete of the Week by the league office Tuesday. She picked up a pair of victories at the No. 1 singles and doubles positions last weekend to help the Hawkeyes improve to 9-0, their second best start in program history. This is the first weekly honor of van Heuvelen's career. She is the first Hawkeye to earn the weekly conference honor since Ruth Seaborne was recognized in April 2014. 
MAKING HISTORY
The Hawkeyes made history at the end of February when they defeated Evansville and Western Illinois to improve to 9-0, the second best start in program history. The best start in program history came in 1990 when the Hawkeyes won their first 12 matches.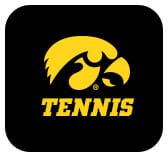 CROSS COURT CONNECTIONS
Former UI head coach Katie Dougherty, now the assistant coach of the Maryland Terrapins, spent seven years with the Hawkeyes recording a 71-92 overall record. In 2010, she led the Hawkeyes to a 17-7 record and a berth in the NCAA Championships. Iowa reached as high as No. 18 in the ITA National Rankings in 2010, the highest in program history. 
HAWKEYES AGAINST RANKED OPPONENTS 
No. 43 Maryland is the first of five ranked opponents on Iowa's schedule. The last time Iowa defeated a ranked opponent was in 2014 when they beat No. 42 Illinois, 4-3, in Champaign, Illinois.
TAKING ON THE TERRAPINS
The Terrapins enter the weekend ranked No. 43 and undefeated with a 6-0 record. Maryland picked up its first Big Ten victory last weekend defeating Purdue, 5-2, in West Lafayette, Indiana. This will be only the third match between the schools. Maryland has won both matches, including last season's 4-3 win in Iowa City.  
TAKING ON NAVY
Navy comes into the weekend with a 9-7 record. They are currently on a four-match win streak, defeating Villanova (6-1), Howard (7-0), Seton Hall (4-3), and Morgan State (4-3). This will be the first ever match between Iowa and Navy.
REIMCHEN/THOMS REMAIN UNBEATEN
Junior Anastasia Reimchen and sophomore Kristen Thoms are still yet to lose a singles match. Reimchen has started the season 8-0 and Thoms has a team-best 9-0 start to the season. In addition to her 9-0 singles start, Thoms has also posted a 4-0 doubles mark. Montana Crawford (5-0) and Aimee Tarun (4-0) are also unbeaten in singles play this season. 
BECOME A FAN
Fans can follow the Iowa women's tennis team at facebook.com and via twitter 
@Iowa_Tennis. Live results from this weekend are available on the Iowa women's tennis schedule page at hawkeyesports.com.