Hawkeye Fan Shop — A Black & Gold Store | Hawkeyes in the NBA | Hawk Talk Monthly — February
Editor's Note: The following first appeared in the University of Iowa's Hawk Talk Daily, an e-newsletter that offers a daily look at the Iowa Hawkeyes, delivered free each morning to thousands of fans of the Hawkeyes worldwide. To receive daily news from the Iowa Hawkeyes, sign up HERE.
RICK BROWN
hawkeyesports.com
IOWA CITY, Iowa — Peter Jok's life has been a series of journeys.
 
The first was fleeing civil strife in the Sudan, where his father was killed when Peter was 3-years-old. After stops in Uganda and Kenya, he landed in Des Moines, Iowa.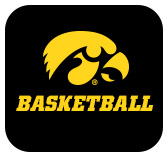 There was also his journey back from a significant injury that turned him from a must-get prospect to a virtually forgotten one.
 
And then there's his four-year journey through the Big Ten Conference as a member of the University of Iowa men's basketball team.
 
It has been a story of growth, maturity, and unprecedented accomplishment, a journey that ends today when the senior and the Big Ten's leading scorer plays his final regular-season game on Mediacom Court inside Carver-Hawkeye Arena against Penn State.
 
"It's amazing to be where I am right now," Jok said.
 
The Hawkeyes' 59-57 victory at No. 22 Wisconsin on Thursday gave Jok a career sweep. The 6-foot, 6-inch guard is the only Big Ten player to ever win a game in all 14 league venues.
 
"It says a lot about him, but it says a lot about the guys he has played with as well," said Iowa head coach Fran McCaffery. "They have the necessary mental toughness that you need. We had a number of times (at Wisconsin) where we could have just packed it in, and we never did. We just kept coming. A lot of it is due to his character and leadership."
 
The real story of Jok's Hawkeye career is his transformation from a neophyte freshman learning his way to a senior leader on a team that is loaded with freshmen and sophomores.
 
"He was always a great teammate," McCaffery said. "He always accepted coaching. He figured out how to work harder, how to get himself in shape, how to be successful at this level. That kind of maturity is fun to watch, because some kids never figure it out. They just keep making excuses; he never made excuses."
 
Growing up without a father, Jok has had to lean on a long list of father figures.
 
People like Mike Nixon, his guardian, who got him started in basketball. Peter hated the game at first. Soccer was his sport. Jok was in the fourth grade when some friends asked him to play on their basketball team at Greenwood Elementary in Des Moines.
 
Nixon heard about Jok, asked him to be on his AAU team and started teaching Peter the game.
 
"I didn't know how to shoot when I started playing basketball," Jok said. "Then Mike taught me. At first, I wasn't a fan at all. Now I'm a basketball player. It's a crazy story."
 
Nixon also guided Jok around life's detours. That included a significant injury to Peter's left knee at a Nike Camp in the summer of 2010. He tried to play through the injury but had surgery to repair a torn patellar tendon in June of 2011.
 
Many recruiters forgot about him, but Iowa assistant coach Kirk Speraw kept close tabs on Jok's recovery. On Sept. 17, 2012, Speraw and McCaffery came to Valley High School, where Jok played his final two seasons, to watch him in an open gym. McCaffery offered a scholarship that night. Jok accepted a week later.
 
Another important figure in Jok's life has been his older brother, Dau, who played basketball and graduated from Penn and has been an exemplary leader throughout his adult life.
 
"If it wasn't for Mike Nixon, I wouldn't be where I am right now," Jok said. "My family got real close to his family. He calls me son now. Besides blood, we're pretty much a family. He and my brother have helped me become the man I am."
 
Jok also leaned on his Iowa coaches and his teammates. He learned he had asthma as a freshman, and found ways to treat it. It was Aaron White and Gabe Olaseni who showed him how to take care of his body, and improve his diet. Anthony Clemmons continues to offer guidance. And Jok has matured as a leader in his final season as a Hawkeye.
 
"I'm just in a different role," Jok said. "Last year we had four seniors. They were all good leaders. I tried to learn a little something from every one of them. This year, I felt like I had to become a better leader. I'd never been in a position where I had to lead the team. It's still a learning process for me, but the young guys have helped me out with it. They listen to me."
 
As Iowa's lone returning starter, Jok knew he would be a marked man on the court as a senior. Despite that, he has averaged 20.1 points overall and 18.0 in Big Ten play. He has scored 30 points or more a Big Ten-best five times, including a 42-point game against Memphis that was the highest-scoring game for a Hawkeye in four decades.
 
Jok is also shooting 92.2 percent from the free-throw line in Big Ten play. The Big Ten single-season record is 92.1 percent, set in 1984-85 by former Iowa head coach Steve Alford when he played at Indiana.
 
Jok set an Iowa record with 22 made free throws against Indiana on Feb. 21. He is shooting 92.4 percent from the line in all games, which leads the country among players averaging at least three attempts a game.
He has done all that with a target on his back.
 
"I've never seen this before, the defense he gets," McCaffery said. "They switch or trap him on every down screen, every ball screen. They mug him, hold him; I have never seen anything like it."
 
In practice, Jok tells his teammates to get physical with him to prepare for the games at hand. Jok has played with nagging back and shoulder injuries that kept him out of two Big Ten games. Those injuries were the result of the defensive attention he has received.
 
"Every night they're beating me up," Jok said. "Even when I'm running down the lane, somebody pushes me. Almost every one of my shots is a tough shot. I don't get a lot of open looks. I'm pretty sore after a game, but at the same time I knew coming into the year that it was going to happen."
 
Jok has displayed a mental toughness and maturity to play through the hands-on attention.
 
"It's hard, especially when you're asked to guard somebody good at the other end and play at the pace we play," McCaffery said. "He expects that from himself. That's the way it has been all year, and he has been terrific."
 
Jok said the growing maturity of the team has made his job easier.
 
"In the beginning of the season, the guys were looking up to me and were passing me the ball," Jok said. "They wanted me to step up and be a good leader on offense. We are at a point now where I don't need to score as much for us to win because other guys are stepping up.
 
"I'm trying to find other ways, where I can get an assist or screen to get other guys open."
 
An 83-69 victory at No. 24 Maryland on Feb. 25 is a perfect example of that.
 
"We made 16 3-pointers at Maryland because of how they were guarding him," McCaffery said. "He made some great passes."
 
Put it all together, and Jok's evolution as a basketball player and leader made McCaffery's scholarship offer in the fall of 2012 a sage decision.
 
"I figured this is the way it would end up," McCaffery said.