Hawkeye Fan Shop — A Black & Gold Store | 24 Hawkeyes to Watch 2016-17 | Hawk Talk Monthly — March 2017 | Results (PDF)
COLUMBIA, Mo. — Senior Brandis Heffner and sophomore Matt Mauser advanced to the finals off the 1-meter springboard Monday at the NCAA Zone D Diving Championships at the Mizzou Aquatic Center.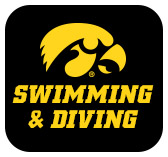 Heffner finished with a score of 311.40 in the prelims, sitting in 15th place.  He posted a score of 313.35 in the finals to accumulate a score of 624.75 points.  He finished 14th overall.
 
Mauser sat in 18th place with a 310.45 to earn the last qualifying spot.  He finished with a 282.30 in the finals for a total of 592.75 to place 18th.
 
Sophomore Will Brenner also competed off the 1-meter, finishing with a score of 292.75 to place 20th.
 
The Hawkeyes also had three women's divers compete off the 3-meter.  Sophomore Jacintha Thomas placed 25th with 269.40 points, junior Morgan Rafferty was 27th with 264.30 points, and freshman Thelma Strandberg was 28th with 258.40 points.
 
Action resumes Tuesday with the men competing off the 3-meter and the women off the 1-meter.