Hawkeye Fan Shop — A Black & Gold Store | 24 Hawkeyes to Watch 2016-17 | Hawk Talk Monthly — March | Box Score (PDF)
IOWA CITY, Iowa – The University of Iowa women's tennis team picked up its first Big Ten win of the season Saturday, defeating Indiana, 6-1, at the Hawkeye Tennis and Recreation Complex. With the win, the Hawkeyes improve to 11-1 (1-1).
 
"Indiana is a great team and this was a competitive match," said UI head coach Sasha Schmid. "I happy for the team because this has been a long time coming for them to get over the hump in a Big Ten Match. This was a real team effort and it started with our doubles play."
 
The Hawkeyes started the day winning the doubles point. Seniors Aimee Tarun and Natalie Looney were first off the court in doubles plays defeating Pauline Jahren and Paula Gutierrez, 6-2.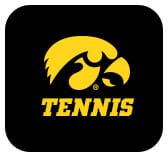 Freshmen Elise van Heuvelen and junior Zoe Douglas clinched the doubles point when they defeated Madison Appel and Kim Schmider at the No. 1 position, 6-4.
 
Douglas was first off the court in singles play, defeating Gutierrez in straight sets, 6-4 6-2, at the No. 2 position. Van Heuvelen followed with a straight set win at No. 1, 7-5 6-1.
 
Tarun clinched the Hawkeyes' first Big Ten win of the season when she defeated Kim Schmider in three sets, 6-0 4-6 6-4 at No. 5.
 
Kristen Thoms and Montana Crawford won the last two matches in three sets, sealing the 6-1 win. Thoms defeated Caitlin Bernard, 4-6 6-4 6-3 at No. 3, and Crawford beat Pauline Jahren, 3-6 6-4 6-3 at No. 6.
 
The Hawkeyes return to the court Monday against Old Dominion. The match begins at 11:30 a.m. (CT) in Norfolk, Virginia.
 
 
Iowa Hawkeyes 6, Indiana 1
Singles competition
1. Elise van Heuvelen (IOWA) def. Madison Appel (IND) 7-5, 6-1
2. Zoe Douglas (IOWA) def. Paula Gutierrez (IND) 6-4, 6-2
3. Kristen Thoms (IOWA) def. Caitlin Bernard (IND) 4-6, 6-4, 6-3
4. Natalie Whalen (IND) def. Adorabol Huckleby (IOWA) 5-7, 6-1, 6-2
5. Aimee Tarun (IOWA) def. Kim Schmider (IND) 6-0, 4-6, 6-4
6. Montana Crawford (IOWA) def. Pauline Jahren (IND) 3-6, 6-4, 6-3
 
Doubles competition
1. Elise van Heuvelen/Zoe Douglas (IOWA) def. Madison Appel/Kim Schmider (IND) 6-4
2. Adorabol Huckleby/Montana Crawford (IOWA) vs. Caitlin Bernard/Natalie Whalen (IND) 4-4, unfinished
3. Aimee Tarun/Natalie Looney (IOWA) def. Pauline Jahren/Paula Gutierrez (IND) 6-2
 
Order of finish: Doubles (3,1,2); Singles (2,1,4,5,3,6)