Hawkeye Fan Shop — A Black & Gold Store | 24 Hawkeyes to Watch 2016-17 | Hawk Talk Monthly — March 2017 | 2017 Football Season Tickets | KinnickEdge.org | A VIDEO — A Look Toward the 2017 Season | Signing Day Central | VIDEO — Austin Blythe Interview
Editor's Note: The following first appeared in the University of Iowa's Hawk Talk Daily, an e-newsletter that offers a daily look at the Iowa Hawkeyes, delivered free each morning to thousands of fans of the Hawkeyes worldwide. To receive daily news from the Iowa Hawkeyes, sign up HERE.
By DARREN MILLER
hawkeyesports.com
IOWA CITY, Iowa — You name it and Austin Blythe probably did it during his rookie season with the NFL's Indianapolis Colts.
 
He was drafted, inactive, active, started, played special teams, and traveled to London, where he earned his first start at guard against Jacksonville. And Blythe could be the only 6-foot-3, 298-pound offensive lineman to return a kick, which he did against Houston.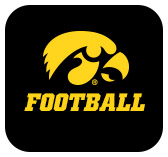 "It was a good experience for me, a good first year," Blythe said March 7 in the Stew and LeNore Hansen Football Performance Center. "I'm ready to hit the ground running in year two."
 
Like so many Hawkeyes-turned-professionals who have preceded him, Blythe returns to his offseason home in Williamsburg, Iowa, so he can train with Iowa strength and conditioning coach Chris Doyle and his staff until he reports to Colts camp in April.
 
"(The Colts) said make sure you come back in shape and I'm going to do that," Blythe said. "I said it throughout college: The people here make Iowa such a great place and it is an easy decision to come back and train here. You have one of the best guys doing it, he establishes one of the best staffs in the nation, so it's easy to come back and get training from coach Doyle."
 
It has been a bustling time for Blythe since the Rose Bowl Game on Jan. 1, 2016 — his final outing with the Hawkeyes. He prepared for the NFL Combine, then Iowa's Pro Day. He was selected in the seventh round by the Colts, where former Iowa assistant Joe Philbin is assistant head coach/offensive line coach. He went through rookie mini-camp. Throw in that Blythe became a father nine months ago when his wife, Kiley, gave birth to their son, Reed. 
 
"It is a long process, but it is so enjoyable and worthwhile," Blythe said.
 
Blythe played in eight games for the Colts, who finished the season 8-8, a game behind AFC South champion Houston. He started on Oct. 2 against Jacksonville in London's Wembley Stadium. Blythe laughs about another notable moment, especially for an offensive lineman: He not only touched the football Oct. 16 against Houston, but he returned a kick 10 yards. The play unfolded in part because of C.J. Fiedorowicz, another former Hawkeye playing for the Texans.
 
With less than a minute remaining, Fiedorowicz hauled in a 26-yard touchdown pass as Houston rallied from a 14-point deficit to tie the game, 23-23. One of the Colts' returners was unavailable, so Blythe's name was called.
 
With a colossal offensive lineman positioned near the 20-yard-line, Houston squibbed the kickoff and it headed toward Blythe, who corralled the ball with his left hand and took off. This is how NBC's Al Michaels described it:
 
"It's a bouncing kickoff, juggled, fielded at the 24 and run back to the 32 by Austin Blythe, a rookie out of Iowa who had no idea what was coming his way at that point. A lineman; what is this? That could have been disaster."
 
It was not disaster for Blythe or the Colts, although they lost the game in overtime.  
 
As Blythe was heading home from this workout in Iowa City last week, another great Hawkeye, defensive back Desmond King, entered the building. The former teammates shook hands and exchanged pleasantries. Blythe knows what King is currently going through as he prepares for the next level.
 
"You have to take it one day, one week, one month at a time. Step-by-step," Blythe said. "Rookie year is long, you go from one thing to the next."
 
Soon King will join Blythe as another University of Iowa product in the NFL.
 
"About every team we played had a Hawkeye on it," Blythe said.
 
And the postgame routine is typical: cross the field, say hello, and reminisce about good times wearing the Tigerhawk.
 
"It was good seeing those guys and I look forward to that in year two," Blythe said.
 
Blythe will remain in Iowa until April 17 when he returns to Indianapolis to go through the team's offseason program at the Indiana Farm Bureau Football Center. Until then, he will continue to enjoy time with his family and do what he can to become a consistent starter in the NFL.
 
"I want to establish myself as the next man in, if not a starter, on the offensive line," Blythe said. "My goal is to start for the Indianapolis Colts. If that doesn't happen, I will work for that sixth spot and be the next man in on the interior."
 
Questions concerning the purchase of 2017 football tickets, including general public, University of Iowa faculty/staff and UI student seasons tickets by current UI students, should be directed to the UI Athletics Ticket Office. The office is open weekdays from 9 a.m. to 4 p.m. (CT). The office telephone number is 1-800-IA-HAWKS.  Information is also available at hawkeyesports.com/tickets. The deadline for season ticket renewals is Friday, March 31.