Hawkeye Fan Shop — A Black & Gold Store | Hawkeyes in the NBA | Hawk Talk Monthly — February
Editor's Note: The following first appeared in the University of Iowa's Hawk Talk Daily, an e-newsletter that offers a daily look at the Iowa Hawkeyes, delivered free each morning to thousands of fans of the Hawkeyes worldwide. To receive daily news from the Iowa Hawkeyes, sign up HERE.
DARREN MILLER
hawkeyesports.com
IOWA CITY, Iowa — Players like University of Iowa freshman Jordan Bohannon put fans in seats, then bring them to their feet for the next two hours. It's an up-and-down ordeal, not unlike a rookie season in Division I basketball.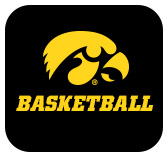 Bohannon capped a spectacular three-game postseason Sunday that included one game in the Big Ten Tournament and two in the National Invitation Tournament. He registered three straight double-doubles in points and assists, saving his best for last. In 42 minutes Sunday against TCU, Bohannon scored a game-high 25 points with a game-high 13 assists. Not a bad way to close his 34-game freshman season.
 
"I got more comfortable with the ball and started making the right reads," Bohannon said. "That took time; I watched a lot of film outside the gym and tried to polish my skills inside the gym."
 
Bohannon scored 24 points with 10 assists against Indiana on March 9. He opened the NIT six days later by scoring 19 points with 11 assists against South Dakota. His 13 assists Sunday meant that he established a career-high in that category for three consecutive games. Bohannon was 16-of-27 from distance (59.3 percent) in his final three games.
 
"As he has gained experience, he is figuring out exactly how to make those kinds of plays," Iowa head coach Fran McCaffery said. "He has figured out when to stick with the play and when to just go."
 
That growth in decision-making took time. Bohannon came off the bench in the first six games of the season. He started the next 28, a stretch that saw him score 23 points at Notre Dame, two against Stetson, 18 against North Dakota, and zero at Michigan State.
 
Highs and lows, ups and downs.
 
Midway through the first half Sunday, Bohannon contributed five points and four assists. His reverse layup in transition six minutes into the game highlighted a 7-0 run and put the Hawkeyes ahead, 20-14. A 3-point field goal by Bohannon with 1:52 left in the first half gave Iowa a 38-37 lead.
 
He played a key role in another 7-0 run five minutes into the second half. Bohannon was fouled while making a 3-point field goal and he added the free throw to cut an 11-point deficit to 55-51. Then, during an 82-second stretch in the second half, Bohannon handed out three assists. The last time the game was tied — 86-86 in overtime — came on a dunk by freshman Tyler Cook off an assist by Bohannon. It was his 13th assist of the game, tying for fourth all-time in Iowa history.
 
But Bohannon's personal-best point and assist total came during a 94-92 loss to the Horned Frogs, ending Iowa's season at 19-15.  That put a damper on the individual accolades.
 
"I'm never going to say it's a high if we lose a game, but there are a lot of special things we did this season as a team and individuals," Bohannon said.
 
When Sunday's game ended, Bohannon and Cook embraced before walking off the court together. There were butts in the Carver-Hawkeye Arena seats — a sellout crowd of 15,400 in fact — and like Bohannon and Cook, the Hawkeye faithful will undoubtedly return in 2017-18.
 
As for the postgame conversation between Iowa's rising stars?
 
"We were saying how special we could be in the coming years and these (postseason) games will help us tremendously," Bohannon said. "We have a bright future here and we want to stay positive and together."