Hawkeye Fan Shop — A Black & Gold Store | 24 Hawkeyes to Watch 2016-17 | Hawk Talk Monthly — March 2017 | Round 2 | Round 3 | Round 4
RANCHO SANTA FE, Calif. – The University of Iowa women's golf team concluded play at the 2017 SDSU March Mayhem on Tuesday evening at the Farm Golf Club in Ranch Sante Fe, California. The Hawkeyes finished 14th overall. 
 
No. 2 Southern California won the event over No. 74 Fresno State in the championship round.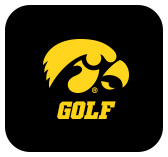 "We had a really good week of competition and training," said UI head coach Megan Menzel. "We got many reps in, and we were able to get an honest look at our games."
 
Iowa fell to No. 26 San Diego State, 3-2, on Monday. Iowa started the second day of competition by falling to No. 25 Cal, 3-2, in the second round. Freshman Sophie Liu won her second match of the tournament, defeating sophomore Marianne Li, 3-and-2. Junior Elisa Suarez overcame sophomore Amina Wolf, 5-and-3.
Senior Jessie Sindlinger experienced her first loss of the tournament when she fell to Cal's junior Marthe Wold by two holes on the 17th hole. Junior Jessica Ip fell to freshman Maria Herraez Galvez, who won the round four up. After a close battle, senior Lucia Gutierrez came out with a 1-up victory over sophomore Kristin Glesne.
 
Iowa went on to defeat Yale, 4-1, in the third round of match play. Four Hawkeyes swept wins over their competitors.
 
Suarez recorded her second win of the day, defeating junior Sandy Wongwaiwate by two holes with one hole left to play. Glesne won over sophomore Jayshree Sarathy, 3-and-2, while Ip conquered freshman Julie Luo, 6-and-4. Sindlinger found a 1-up victory over junior Elisabeth Bernabe to solidify the win for the Hawkeyes.
 
Liu marked her first loss in the third round against Yale's sophomore Jennifer Peng, falling by 3 holes with 2 holes left to play.
 
Due to rain predictions, the final round was moved forward to Tuesday. Iowa fell to No. 57 Idaho in the fourth round to finish 14th overall.
 
Glesne and Ip both lost, 4-and-2, while Idaho's sophomore Michelle Kim clenched a 3-and-2 win over Suarez.
 
Liu finished the lineup all-squared against freshman Danika Palm.
The Hawkeyes return to action when they host the Hawkeye-Tigre Invitational in Puerto Vallarta, Mexico, on April 2-4.
 
"We are grateful for the courses we got to play and the chance to play for 12 days in a row over spring break," said Menzel. "Our team is looking forward to Mexico, and we continue to see a lot of growth in all of our players."
 
Round 2: Iowa 2, Cal 3
1)    Sophie Liu (Iowa) def. Marianne Li (Cal), 3-and-2
2)    Marthe Wold (Cal) def. Jessie Sindinger (Iowa), 1-up
3)    Maria Harreaz Galvez (Cal) def. Jessica Ip (Iowa), 4-up
4)    Elisa Suarez (Iowa) def. Amina Wolf (Cal), 5-and-3
5)    Lucia Gutierrez (Cal) def. Kristin Glesne (Iowa), 1-up
 
Round 3: Iowa 4, Yale 1
1)    Kristin Glesne (Iowa) def. Jayshree Sarathy (Yale), 3-and-2
2)    Elisa Suarez (Iowa) def. Sandy Wongwaiwate (Yale), 2-and-1
3)    Jessica Ip (Iowa) def. Julie Luo (Yale), 6-and-4
4)    Jessie Sindlinger (Iowa) def. Elisabeth Bernabe (Yale), 1-up
5)    Jennifer Peng (Yale) def. Sophie Liu (Iowa), 3-and-2
 
Round 4: Iowa .5, Idaho 3.5
1)    Sophie Hausmann (Idaho) def. Kristin Glense (Iowa), 4-and-2
2)    Michelle Kim (Idaho) def. Elisa Suarez (Iowa), 3-and-2
3)    Amy Hasenohrl (Idaho) def. Jessica Ip (Iowa), 4-and-2
4)    Jessie Sindlinger (Iowa) vs. Ciara Mayano (Idaho), –
5)    Sophie Liu (Iowa) tied Danika Palm (Idaho), AS