Hawkeye Fan Shop — A Black & Gold Store | 24 Hawkeyes to Watch 2016-17 | Hawk Talk Monthly — March 2017 | 2017 Football Season Tickets | KinnickEdge.org | A VIDEO — A Look Toward the 2017 Season | Signing Day Central | Practice Photo Gallery | Coach Morgan Transcript
By DARREN MILLER
hawkeyesports.com
IOWA CITY, Iowa — Iowa's defensive line will feature more interchangeable parts and less girth in 2017. To top it off, no one is close to being game ready.
 
But that's not a recipe of despair for defensive line coach Reese Morgan, who is entering his 18th season with the Hawkeyes. In fact, Morgan is in great spirits; after all, it's March 29.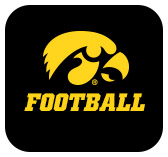 "If you're a football coach and you love to teach, this is the absolute best time of the year," Morgan said Wednesday during a news conference in the Stew and LeNore Hansen Football Performance Center. "You have quality time and you don't have to prepare for an opponent."
Four two-year letterwinners return on the defensive line in seniors Nathan Bazata and juniors Sam Brinks, Parker Hesse, and Matt Nelson. Senior Jake Hulett and sophomores Garret Jansen, Cedrick Lattimore, and Anthony Nelson have also lettered.
 
Graduated senior defensive tackle Jaleel Johnson, who will be drafted into the NFL around the time spring drills wrap up in Iowa City, led the Hawkeyes in sacks last season with 7.5. He was followed by Anthony Nelson with 6.0, Matt Nelson with 5.5, and Hesse with 4.0. Bazata had 1.5 sacks and Lattimore's lone career tackle was for a sack and four-yard loss.
 
The defensive line returnees combined for 161 tackles, 27.5 tackles for loss, and 18 sacks last season. But Morgan will savor the five months before opening day kickoff against Wyoming on Sept. 2; there is a lot of work to be done first.
 
"The guys aren't ready yet," Morgan said.
 
Morgan likes employing an eight-man rotation throughout the season. Bazata, Hesse, and both Nelsons have starting experience, meaning there is room for at least four more swappable parts.
 
"We're trying to develop depth," Morgan said. "We're going to have an opportunity to do that with a lot of different guys. Each day is going to provide opportunities for different guys to experience getting on the field."
 
One of the more interesting scenarios could be moving the 6-foot-8 Matt Nelson inside from end to tackle. Morgan said that in early February, Nelson approached him and said "I'll move inside, outside, you just tell me where to play."
 
"You just love that attitude," Morgan said. "He has been like that from day one."
 
Another bit of encouraging news is the development of sophomore Brady Reiff, younger brother of NFL offensive lineman and former Hawkeye, Riley. At 6-3, 260 pounds, Morgan said he might be undersized for a tackle, but…
 
"He's explosive, productive, and disruptive," Morgan said. "You look at guys like a Mitch King, Karl Klug — kind of a smaller guy inside that can move and do some things — and we're hoping he can do that. He's a guy to keep an eye on."
 
This could also be a season for Hulett, a native of Springville, Iowa, to increase his role.
 
"Here he is a senior who has been a tremendous leader, good player, a guy that's invested in every phase of the program," Morgan said. "He's back (from injury) and is improving every day. He's getting better, and we're going to need him to step up."
 
Questions concerning the purchase of 2017 football tickets, including general public, University of Iowa faculty/staff and UI student seasons tickets by current UI students, should be directed to the UI Athletics Ticket Office. The office is open weekdays from 9 a.m. to 4 p.m. (CT). The office telephone number is 1-800-IA-HAWKS.  Information is also available at hawkeyesports.com/tickets. The deadline for season ticket renewals is Friday, March 31.