Hawkeye Fan Shop — A Black & Gold Store | 24 Hawkeyes to Watch 2016-17 | Hawk Talk Monthly — March 2017 | NOTES NCAA Regionals
CHAMPAIGN, Ill. — The 17th ranked University of Iowa women's gymnastics team travels to the NCAA Regionals in Champaign, Illinois, on Saturday as the No. 3 seed. The meet is set to begin at 4 p.m. (CT) in the State Farm Center.
The Hawkeyes will compete against No. 5 UCLA, No. 8 Oregon State, No. 19 Illinois, No. 22 Eastern Michigan, and No. 26 Ohio State.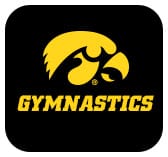 "We are going into Regionals with the same goal we always have –to qualify for Nationals and to have Iowa seen as a perennial powerhouse," said UI head coach Larissa Libby. "We are going to have to be consistent in our performances and make sure we arehitting all of our routines, and I think we are very capable of doing all of these things to make it to the next round."
This is Iowa's third consecutive year to qualify for Regionals as a team. The Hawkeyes have had representation at every NCAA Regional since 2005 with three seasons of individual representation and ten team appearances. Iowa was one of 36 teams nationally selected to compete at one of six regional sites. Four all-around competitors and two specialists per event will also compete individually at each site.
Teams are selected based on regional qualifying scores (RSQ). Iowa is ranked No. 17 nationally with a regional qualifying score of 196.510. The GymHawks also rank 14th on beam (49.225 RQS), 19th on bars (49.145), 20th on floor (49.205), and 26th on vault (48.995).
Iowa enters the regional competition with a regular season record of 15-6 and a third-place finish at the Big Ten Championships in the postseason (196.725). Iowa has had a historic season, with threeGymHawks earning five Big Ten weekly honors, five GymHawkshonored  to the All-Big Ten Team, three GymHawks qualifying for the All-Championship Team, and seven GymHawks making their way into the record books with some of the highest scores in Iowa history.
"I think all my teams are special, but this team is incredibly special," said Libby. "They're different from other teams. Their mentality, insight, and focus is different. They get the big picture and understand their roles. I think this understanding and their ability to work together so well  is what makes them a dangerous competitor."
"Our team has worked so hard this season," said senior Angel Metcalf. "We are most certainly a national competitor, and I would not underestimate us. We are really excited to make the trip toRegionals. I think that this team is amazing and capable of so many things."
The top two teams at the Regionals will receive an automatic bid to the national championship in St. Louis, Missouri, on April 14-15. The top-two all-around competitors and individual event champions will also advance to the championships, if they are not on a qualifying team.
"Heading into Regionals, we're expecting to be on the podium this year," said senior Mollie Drenth." We are expecting to go to nationals. Our focus for Saturday is to hit all our routines and perform the best that we can."
Fans can purchase tickets to the Champaign Regional online at fightingillini.com/tickets, at NCAA.com/tickets, or fans can call the Illini Ticket Office at 1-866-455-4641. Tickets may be purchased at the meet beginning at 3 p.m. Adult single tickets are $11, while student single tickets are $7. Groups of 5 or more can purchase tickets at $6 per person.
Fans can follow the along from home through live stats and streaming links on hawkeyesports.com. Fans can also follow @IowaGymnastics on Twitter and Instagram or on Facebook Live at facebook.com/iowagymnastics.