IOWA CITY, Iowa – – In connection with the "SWARM Des Moines" football practice Friday, April 7 at Valley High School, the University of Iowa athletics department is hosting promotional activities in the Des Moines area during the week.
Iowa athletics is distributing 120 footballs in the Des Moines area that can be presented Friday evening at Valley Stadium for exclusive Hawkeye football prizes.  The specially marked footballs will be hidden at promotional events at Hy-Vee and Billion Automotive.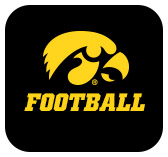 A number of the footballs will be hidden Tuesday, April 4, from 4-6 p.m. as Iowa Corn hosts a Pump Rally at the Hy-Vee store located at 555 S. 51st Street.  Herky the Hawk, and the Iowa Corn Cy-Hawk Trophy will be available for photo opportunities.
The remaining footballs will be hidden at a social event at Billion Automotive, located at 9060 Hickman Road in Clive, on Thursday, April 6 from 4-8 p.m.  Along with the mini footballs, the Thursday event features Herky the Hawk, the Floyd of Rosedale rivalry trophy, and additional events for Hawkeye fans.
On Friday, the West and Southeast gates of Valley Stadium open at 5 p.m.  An ANF presentation is scheduled for 6:15 p.m., with practice to follow at 6:30 p.m. No tickets are required for the event, which is free to the public.  Herky the Hawk and the Floyd of Rosedale rivalry trophy are available for photo opportunities.  Roster cards, posters, schedule cards, and 2017 ticket information will be available at all open gates. 
Concession stands inside the stadium will be open and the Hawkeye Fan Shop will be open outside the west entrance.  No outside food or drink is allowed in Valley Stadium.  Other prohibited items include strollers and umbrellas.  Bags may be subject to search upon entry to Valley Stadium.
A youth clinic is scheduled to follow the practice session.  The 35-minute clinic is open for the first 300 children (ages 7-12), with all participants receiving a free t-shirt.  Release of Liability forms will be distributed at the entrance gates.  Forms must be completed and signed by the youth's parent/guardian and presented to UI staff at the NW Field Gate at 7:15 p.m.  Parents/guardians will not be permitted on the field during the youth clinic.
An autograph session for kids only will follow the youth clinic.  Kids will not be allowed to bring autograph items into the stadium; only items issued by UI staff at the event will be autographed. 
No tailgating, including open flame grills, is allowed on West Des Moines Community School District, City of West Des Moines, or Valley Church property; including before and after practice.  Alcohol is never allowed on the City of West Des Moines or West Des Moines Community Schools property.  All WDMCS property, including Valley Stadium, is tobacco-free.
Fans who are unable to attend the SWARM Des Moines can watch the practice live at Hawkeye All-Access:  http://www.hawkeyesports.com/watch/
The Hawkeyes host their spring game in Kinnick Stadium on Friday, April 21 at 7 p.m. to conclude spring practice.
Iowa opens the 2017 football season Sept. 2, hosting Wyoming.  The Hawkeyes travel to Ames for the Iowa Corn Cy-Hawk Series game with Iowa State on Sept. 9 and conclude nonconference play at home against North Texas on Sept. 16.  The Hawkeyes will host five Big Ten Conference home games, beginning Sept. 23 with defending champion Penn State.  Additional conference home opponents include Illinois (Oct. 7, Homecoming), Minnesota (Oct. 28), Ohio State (Nov. 4) and Purdue (Nov. 18).  Iowa travels to Michigan State, Northwestern, Wisconsin, and Nebraska.
Questions concerning the purchase of 2017 football tickets, including general public, UI faculty/staff and UI student seasons tickets by current UI students, should be directed to the UI Athletics Ticket Office.  The office is open weekdays from 9 a.m. to 4 p.m.  The office telephone number is 1-800-IA-HAWKS.  Information is also available at hawkeyesports.com/tickets.  The deadline for season ticket renewals is Friday, March 31.