Hawkeye Fan Shop — A Black & Gold Store | 24 Hawkeyes to Watch 2016-17 | Hawk Talk Monthly — April 2017 | Week 13 Notes
By KEVIN QUINN
hawkeyesports.com
IOWA CITY, IOWA — University of Iowa junior Montana Crawford has always had the physical tools. But in 2017, she's added confidence and endurance to her bag of tricks, seizing an opportunity to contribute every day to the Hawkeyes lineup.
 
"This year I have had more opportunities to grow as a player and I think that I've been growing constantly throughout last year and this year," said Crawford. "The mental side of my game has grown a lot and I have more confidence in myself."
 
All Crawford has done with her opportunity is post a 10-4 singles record, third best on the team. The junior has played at the No. 5 and No. 6 positions, recording marks of 4-1 and 6-3, respectfully.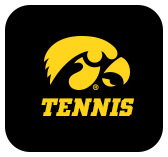 "First and foremost, Montana is an incredible athlete," said UI head coach Sasha Schmid. "She has a great base of physical skills, and when you add that to someone who is coachable and has a good attitude, I think it naturally starts to turn over in a positive direction. It's so fun to see an athlete on an upward projection where you can see them progress."
 
On April 1, Crawford earned her 10th win of the season, defeating Illinois' Daniela Novak in a three-set match. After dropping the first set, Crawford bounced back and won the next two, 6-2, 7-5. She credits her success to Schmid's focus on conditioning.
 
"We've done a lot of running. We ran the mile, a number of 5K's, suicide drills in practice, and I can really tell that it's helped," said Crawford. "In the match against Illinois, I noticed I wasn't getting tired during points and was getting to so many balls. If we hadn't done those suicides and other condition drills I know I would've been tired and unable to get to a lot of those balls."
 
The credit may go to Schmid for refocusing her players, but up it's up to the athletes to take it and run with it.
 
"Montana has really been able to listen and implement different things into her game," said Schmid. "That's awesome as a coach to have someone that goes the next step and just does it. Montana has been willing to do that and it's definitely paid off."
 
 
The Hawkeyes have been close this season, taking more matches into the third set and discovering a newfound confidence.
 
"When we played Northwestern, we had four third-set matches that could've turned. We were so close to having a turning point and winning that match," said Crawford. "I think we can go into this next weekend knowing that we aren't far away from (Ohio State). We are right there and we have the confidence that we belong in this match."
 
The Hawkeyes currently find themselves in the middle of the Big Ten standings with a 3-3 record. They're looking to finish the month of April strong and get to the next level by taking advantage of the opportunities before them.
 
"We just have to continue to do what we are doing," said Schmid. "If we continue to do what we are doing every day we will be fine. I don't think we have to go and do anything crazy, we just need to do what we do every single day."
 
The last time the Hawkeyes made the Big Ten tournament was in 2014, and with five matches remaining Iowa is in eighth place. The top 10 teams make the tournament, and the Hawkeyes feel as if things will go their way.
 
"There's no way it doesn't go well," said Schmid. "As long they continue to prepare themselves and have the right mindset and work well as a team, how does it not go well? There's no way it doesn't."