Hawkeye Fan Shop — A Black & Gold Store | 24 Hawkeyes to Watch 2016-17 | 2017 Football Season Tickets | KinnickEdge.org | Hawk Talk Monthly — April 2017 | A VIDEO — A Look Toward the 2017 Season | Signing Day Central | Ken O'Keefe Transcript (PDF)
Editor's Note: The following first appeared in the University of Iowa's Hawk Talk Daily, an e-newsletter that offers a daily look at the Iowa Hawkeyes, delivered free each morning to thousands of fans of the Hawkeyes worldwide. To receive daily news from the Iowa Hawkeyes, sign up HERE.
By JAMES ALLAN
hawkeyesports.com
IOWA CITY, Iowa — Junior Tyler Wiegers and sophomore Nathan Stanley are at the head of the quarterback pack for the University of Iowa football team.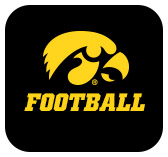 Quarterbacks coach Ken O'Keefe says the position battle this spring is neck-and-neck, which is to be expected for a duo that has a combined 13 passes as collegians. 
 
Wiegers appeared in four games as C.J. Beathard's understudy during the 2015 season.  Stanley was Iowa's backup in 2016 as a true freshman, playing in seven contests. 
 
"They separated themselves from the rest of the pack," said O'Keefe. "They're getting equal number of reps every day.  It is neck-and-neck, and they're going at it like it is at this point."
 
O'Keefe says competition is never a bad thing and he can't predict when one quarterback will separate from the group.  The No. 1 factor in determining who Iowa's starting quarterback will be when the Hawkeyes open the 2017 season against Wyoming will be performance, and it isn't necessarily statistically driven.
 
"Drew Tate separated himself years ago when he would jump in," said O'Keefe of Tate's freshman season as Nathan Chandler's backup in 2003. "He could move the second team during two-minute drills, and he separated himself right there.
 
"I wasn't worried about how many passes were completed during that particular point in time, but who moved the team into scoring position or scored in those situations. Who wanted to do the job factored into that as well because nobody wanted to do the job more than him. Those are the things that separate people."
 
Wiegers and Stanley are similar in stature. Wiegers is 6-foot-4, 222 pounds; Stanley stands 6-5, 212.  O'Keefe says both players can move in the pocket and throw on the run, but he doesn't anticipate either winning a sprinting battle.
 
"I don't see anybody taking off and running for 60 yards on the first play in a two-minute drill like Brad Banks did against Purdue," said O'Keefe, referencing Iowa's Heisman Trophy runner-up. "I don't think that will be an issue, but they can move well enough to get out of the pocket and get the first down. That's really what you want."
 
O'Keefe wouldn't call Iowa's new offense "a lot different" under first-year offensive coordinator Brian Ferentz, but he said everything is different in some respect. 
 
"It's a combination of everybody's experiences since I left here," said O'Keefe. "Brian's experience with the (New England) Patriots, I had some experience in Miami, (receivers coach) Kelton (Copeland) at Northern Illinois, and (offensive line coach) Tim (Polasek) from North Dakota State.
 
"It has been a collaboration. Brian seeks and incorporates ideas, so we're doing the things that are best for us as an offense right now."
 
With new nuances on the offense, O'Keefe doesn't feel a greater sense of urgency among the Iowa coaches. At the end of the day, it's still about teaching and adapting.
 
"Every spring it seems like you're changing," said O'Keefe. "Whether it's here or in the NFL 1/3 of the team is changing out every year. You have to roll with that as best as you can, so a sense of urgency becomes a sense of normality in that regard.
 
"You teach what you have to and be patient to a certain degree.  You take it one step at a time and try not to jump to step four before you have worked on step two and three, because that's where guys get confused when you're installing something new and you could have trouble."
 
O'Keefe can't pinpoint specifics from his other Iowa spring practices, but he believes the current Hawkeyes are "pretty much where we've always been."  He says coaches are never satisfied; they always want things to come along faster, be better.
 
"Everybody wishes that," he said. "It never is.
 
"The nice thing about this is we know whoever the quarterback is, he's going to be somewhat inexperienced, but we have an experienced line in front of him that he should benefit by. That part, I feel good about and they should as well."