Hawkeye Fan Shop — A Black & Gold Store | 24 Hawkeyes to Watch 2016-17 | 2017 Football Season Tickets | KinnickEdge.org | Hawk Talk Monthly — April 2017 | A VIDEO — A Look Toward the 2017 Season | Signing Day Central
Editor's Note: The following first appeared in the University of Iowa's Hawk Talk Daily, an e-newsletter that offers a daily look at the Iowa Hawkeyes, delivered free each morning to thousands of fans of the Hawkeyes worldwide. To receive daily news from the Iowa Hawkeyes, sign up HERE.
By DARREN MILLER
hawkeyesports.com
IOWA CITY, Iowa — For the last 20 years, Bob Rahfeldt has been satisfied working behind the scenes and behind a video camera.
 
Like a long-snapper or referee, Rahfeldt takes pride in what he does, but doesn't crave attention. As director of football video operations at the University of Iowa, when things go according to plan, there is no need for acknowledgment or a pat on the back.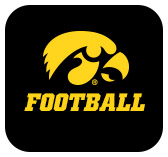 But Rahfeldt received well-deserved recognition last week when the Collegiate Sports Video Association named him the 2016-17 Big Ten Conference Video Coordinator of the Year.
 
"I love my job, from making creative videos, to working with players and coaches," Rahfeldt said. "I grew up an Iowa fan and I wanted to do something with video. The fact I could do both at the same time is ideal. We have a good staff and they are fun to work with; that makes it rewarding."
 
Rahfeldt, 41, graduated from Gilbert (Iowa) High School in 1994 and attended Des Moines Area Community College two years. He enrolled at the University of Iowa in 1996 and the next fall he began working as a student football video assistant under head coach Hayden Fry, filming practices and games. Rahfeldt graduated from Iowa with a degree in communications studies in 1998 and accepted a position in the video department that was created by Matt Engelbert, who preceded him as director of football video operations.
 
"It was good timing that I graduated the same time coach (Kirk) Ferentz started," Rahfeldt said. "My position was created because there was an increase in technology and the volume of video that we watched when coach Ferentz took over."
 
Rahfeldt was promoted when Engelbert moved on to the University of Arkansas in February of 2013.
 
"All of us involved with the program are pleased for Bob," Ferentz said. "He has earned it — starting as a student assistant, then as an assistant, and he has done a wonderful job since taking over for Matt. We feel fortunate to have him, he has a great staff and is giving them great leadership. We're happy to see his efforts recognized by his peers; that is meaningful."
 
In his time as director, Rahfeldt has overseen numerous technological advances and was instrumental in the transition to paperless playbooks and cloud-based video analytics. He also planned the technological and video aspects of the Stew and LeNore Hansen Football Performance Complex.
 
Still, the day-to-day video operation in the two decades from when Rahfeldt started in 1998 until now is similar, with one major exception:
 
"Back then we had Beta tapes, then we would give practice video to coaches on VHS tapes," Rahfeldt said. "Now it is all on SD (secure digital) cards and coaches watch everything digitally online."
 
I appreciate this award very much. But a greater incentive of my job is making sure our coaches have everything they need. — Bob Rahfeldt
Overseeing a staff that produces analytical and production video, Rahfeldt's department handles taping of all practices and games and assists the coaching staff with opponent scouting breakdowns.  His staff also contributes to weekly motivational videos and produces various recruiting and highlight videos.
 
"We're the first step in the process of being able to study our opponents or study ourselves," Rahfeldt said. "If we don't do our job, then no one else can do their job correctly. We have done it a long time and know what the coaches want. The most satisfaction we get is that what we do is useful to our coaches."
 
Rahfeldt has a fulltime assistant, Chris Ruth, who leads the post-production wing. Rahfeldt also supervises a staff of eight students, one who is dedicated to helping with hit films, recruiting videos, and other special projects. Rahfeldt is still hands-on, creating hit films and recruiting videos when time allows. From 2000-13 — when Iowa's video staff was much smaller — Rahfeldt would spend March Matness covering the Hawkeyes at the Big Ten and NCAA wrestling championships.
 
"Long-term, I wasn't sure what I wanted to do, but it was going to be something with video and sports," Rahfeldt said. "I was thinking I would become a producer or director for live game action, in the truck, doing things like that. I did that in college and enjoyed it."
 
From the beginning of August to the beginning of January, Rahfeldt and his staff work 12-15 hours a day, seven days a week. Even then, the long hours and heavy work load aren't bothersome.
 
"It doesn't feel like a job," Rahfeldt said.
 
Rahfeldt is now a finalist for the Bob Matey National Video Coordinator of the Year award, which will be announced at the annual CSVA banquet May 18 in Atlanta.
 
"I appreciate this award very much," Rahfeldt said. "But a greater incentive of my job is making sure our coaches have everything they need."