Hawkeye Fan Shop — A Black & Gold Store | 24 Hawkeyes to Watch 2016-17 | 2017 Football Season Tickets | KinnickEdge.org | Hawk Talk Monthly — April 2017 | A VIDEO — A Look Toward the 2017 Season | Signing Day Central | Kirk Ferentz Transcript (PDF) | Brian Ferentz Transcript (PDF)
By CHRIS BREWER
hawkeyesports.com
  
IOWA CITY, Iowa — University of Iowa head coach Kirk Ferentz announced Wednesday that sophomore quarterback Drew Cook is now sophomore tight end Drew Cook.
 
The proposed position change, which many fans of the program speculated would eventually happen, was positively received by Cook, but it also leaves the Hawkeyes with just three quarterbacks on scholarship.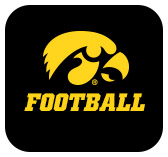 Ryan Boyle, Nathan Stanley, and Tyler Wiegers are taking snaps this spring, with one of the three expected to emerge as Iowa's starting quarterback when the season opens Sept. 2 against Wyoming.
 
The coaching staff has made it clear that Stanley and Wiegers have separated themselves as 1-2, but who goes where has not been determined after 13 spring practices.
 
"At some point we're going to need to make a decision, and some separation would help, but right now I'm encouraged because they're both pushing forward," said first-year offensive coordinator Brian Ferentz. "No one's a clear-cut favorite."
With Cook's move to tight end, a position his father, Marv, played as an All-American for the Hawkeyes in 1998, Iowa now has seven scholarship players, and eight players total, at that position. That's a healthy number, but like the three scholarship quarterbacks, Brian Ferentz says it's manageable.  
 
"Tight ends are a good thing and we feel like we have good guys at the position," Ferentz said. "If we had eight guys but we didn't feel good about them, I think it would be concerning. But right now we have eight guys that we feel pretty good about it."
 
Kirk Ferentz said Cook has been getting reps at tight end for four practices. That's not a huge number, but he's not chasing down an experienced group in pursuit of playing time. Among the other seven tight ends, only Noah Fant (9) and Peter Pekar (1) have any career receptions.
 
"I think he can help our football team win sooner at that position than the other," said Kirk Ferentz. "He was really excited about it and engaged in it. He's done a really good job out there and he's got tremendous upside. He's got a great attitude. That's one commonality that he and Marv have. Obviously, they're different players, different people, but they both are driven by a really strong attitude."
 
Whomever emerges as Iowa's starting quarterback will need the tight ends to be playmakers down field. Iowa has just four scholarship receivers – one who is out with an injury and another who is on hiatus to get his academics in order.
 
Brian Ferentz says Iowa Western transfer Nick Easley will help, and not just at that position group, but the entire Iowa program in general.  
 
"Nick Easley has done a nice job," Brian Ferentz said. "He's not on scholarship, but he'll play, and he'll play more than maybe even he anticipated. Because we're looking for the guys that can go out there and do things the way we want them done, and I mean that 24 hours a day."
 
The end-game according to Brian Ferentz is to do what's best for Iowa football, and that means getting the best players on the field, scholarship or otherwise, position changes or not.
 
"We're not married to anyone, and we're going to do what's best for Iowa football," Brian Ferentz said. "What's best for Iowa football is great competition."
 
The spring competition concludes Friday at the annual Spring Game at Kinnick Stadium. Gates open at 6 p.m. (CT) and the game starts at 7:06 p.m. Admission is free.