24 Hawkeyes to Watch 2016-17 | Hawk Talk Monthly — April 2017 | Hawkeye Fan Shop — A Black & Gold Store
Editor's Note: The following first appeared in the University of Iowa's Hawk Talk Daily, an e-newsletter that offers a daily look at the Iowa Hawkeyes, delivered free each morning to thousands of fans of the Hawkeyes worldwide. To receive daily news from the Iowa Hawkeyes, sign up HERE.
By BRANDEE BRITT
hawkeyesports.com
IOWA CITY, Iowa — The No. 8 University of Iowa men's gymnastics team heads into this weekend's NCAA Championships with a simple formula: hit your routines and stick your landings.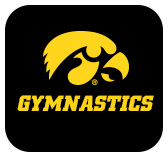 "We are simplifying it," said UI head coach JD Reive. "We have 31 routines that we are putting out there and that's everyone's job. Just get out, hit your sets, stick your landing, and then let the next guy go. When you do that the numbers and judging part of it just plays itself out."
 
The Hawkeyes were 1-of-12 teams selected to compete at the NCAA Championships Qualifier this weekend. The two-day event will be held at the Holleder Center's Christl Arena on the campus of Army West Point.
 
Iowa will compete in one of two qualifying sessions against No. 1 Oklahoma, No. 4 Illinois, No. 5 Minnesota, No. 9 California, and No. 12 Navy on Friday. The top three teams from each session, the top three all-arounders not on a qualified team, and the top three individuals on each event will compete in the finals on Saturday.
 
Coming off of a disappointing sixth-place team finish at the Big Ten Championships, the Hawkeyes are ready to show they are capable of much more on the biggest stage in collegiate gymnastics.
 
"We didn't show what we were capable of at the Big Ten Championships," said senior Cory Paterson. "That has lit a fire in us. We want to show that we can get back in the gym, work on those small details, and show the world what we can do at NCAAs."
 
Paterson advanced to day two of the Big Ten Championships on April 8. The Oakville, Ontario, native scored a 14.350 on high bar to claim the silver medal. Junior Elijah Parsells (6th; pommel horse), redshirt junior Mark Springett (5th; rings), and Andrew Botto (7th; rings) also registered top-eight finishes at the Big Ten Championships.
 
Now, the Hawkeyes are ready to put it all together in order for the team to reach day two of the NCAA Championships.
 
"They honestly just need to do exactly what they have done in practice over the last week," said Reive. "We had a phenomenal workout on Saturday. We've prepared well. Now, the big piece is going to be getting to the podium together. They need to have confidence in what they are doing and stay out of their own heads in order to do that."
 
"We need to do exactly what we've been doing in training," Paterson said. "We need to consistently go out, hit routines, and stick some landings. We can't let the atmosphere of the NCAA Championships affect what we do. It's a regular competition, so we need to go out there and do what we know how to do." 
 
The Hawkeyes kick off NCAA Championship action Friday at 6 p.m. (CT). Fans can follow along via live stream and live stats. Links are available on the Iowa men's gymnastics schedule page on hawkeyesports.com.