Hawkeye Fan Shop — A Black & Gold Store | 24 Hawkeyes to Watch 2016-17 | 2017 Football Season Tickets | KinnickEdge.org | Hawk Talk Monthly — April 2017 | A VIDEO — A Look Toward the 2017 Season | Signing Day Central
Editor's Note: The following first appeared in the University of Iowa's Hawk Talk Daily, an e-newsletter that offers a daily look at the Iowa Hawkeyes, delivered free each morning to thousands of fans of the Hawkeyes worldwide. To receive daily news from the Iowa Hawkeyes, sign up HERE.
By JAMES ALLAN
hawkeyesports.com
IOWA CITY, Iowa — Nick Easley is out to be a contributing member of the University of Iowa football team. If spring impressions are any indication, he'll be much more than a contributor for the 2017 Hawkeyes.
 
"If I had to put a gun to my head, I would tell you our best receiver day-in and day-out at practice has been Nick Easley," said Iowa offensive coordinator Brian Ferentz. "Obviously, we know what Matt VandeBerg can do, but Nick has done a nice job.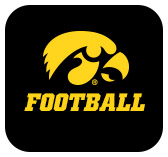 "He's not on scholarship, but he'll play and play more than maybe he anticipated."
 
Easley, a 6-foot, 204-pound wide receiver from Newton, Iowa, joined the program in January as a mid-year transfer from Iowa Western Community College.
 
As a sophomore in Council Bluffs, Iowa, Easley led the NJCAA with 72 receptions for 954 yards and seven touchdowns, which earned him first-team All-America honors.
 
Easley had FCS offers from Western Illinois, Southern Illinois, and Indiana State, and walk-on opportunities at Iowa and Iowa State.  When head coach Kirk Ferentz gave him the chance to be a Hawkeye, he pounced on the opportunity.
 
"Being a mid-year transfer, everything was happening fast," said Easley. "Coach Ferentz and the staff gave me a great opportunity and it was an easy choice growing up a Hawkeye fan and always wanting to be a part of this program."
 
Upon arriving in Iowa City, Easley put his head down and went to work. By the time the initial spring depth chart was released in mid-March, Easley was listed as a second-team wide receiver.
 
"I am trying to be a contributing member of this team whatever way I can," said Easley. "I want to increase my value whether that be on special teams or offense. I want to take advantage of this opportunity."
 
Easley has been playing both inside and outside.  He was a slot receiver in Iowa Western's spread attack.  Iowa's pro style is different, but at the end of the day, he says football is football.
 
"I don't have a preference (of playing inside or outside)," said Easley. "We're all trying to learn all the spots.  When you understand the whole concept rather than one spot, it gives you a better understanding of the offense. 
 
"Every rep I get, I try to treat it like it's the only one I am going to get.  I want to take advantage of every rep; the more I get the better."
 
Easley likes watching tough wide receivers like Jarvis Landry (Miami Dolphins) and Julian Edelman (New England Patriots).
 
"Those are tough dudes," said Easley. "They run good routes and catch the ball. They are really competitive."
 
Landry stands at 5-11, 203 pounds; Edelman is 5-10, 198 pounds.  Both are similar to Easley in stature.  Edelman was a college quarterback at Kent State before finding his niche as a wide receiver in the NFL.
 
Easley arrived in Iowa City looking for an opportunity. He wants to show he's capable and prove he belongs.
 
"I have been underrated for a while," he said. "I don't focus on it too much; it's something that has always been there. I have thrived with it in the past and I want to continue to do the same."
 
The Hawkeyes close out spring ball with the annual Spring Game on Friday night under the lights inside Kinnick Stadium.  Action begins at 7:06 p.m. (CT), and it will be streamed live on BTN2Go.  Tape delayed coverage on BTN will begin at 8:30 p.m.