Hawkeye Fan Shop — A Black & Gold Store | 24 Hawkeyes to Watch 2016-17 | Hawk Talk Monthly — April | B1G Tournament Bracket (PDF)
 
IOWA CITY, Iowa — The Hawkeyes are back in the postseason, that much is certain.
 
How long will the postseason last? That remains to be determined.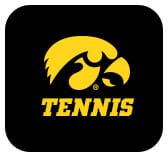 After a two-year absence that includes a winless Big Ten record in 2016, first-year head coach Sasha Schmid has the Iowa women's tennis program back in the Big Ten Championships. The Hawkeyes (16-8, 5-6) open the tournament as the No. 7 seed and play No. 10 Indiana on Thursday at 2 p.m. (CT) at the Atkins Tennis Center in Champaign, Illinois.
 
"Hopefully this becomes standard for us," said Schmid. "It's a goal that we should reach every single year and it can hopefully springboard from the Big Ten Tournament to the NCAA tournament. We've made progress and this is a great experience for everyone to know what it feels like to play for a spot in the NCAA tournament."
 
Senior Aimee Tarun was a freshman when Iowa last appeared at the conference tournament in 2014. That year, the Hawkeyes avenged a loss to Michigan State in the opening round before falling to Michigan in the quarterfinals, 4-1. Tarun did not play against the Spartans, but she was in the lineup against No. 17 Michigan, dropping a tough 6-3, 7-5 decision at No. 6 singles.
 
It's not a fond memory for Tarun, and she's looking for a more rewarding experience this time around. Should Iowa advance past Indiana, a team they defeated 6-1 in the regular season, No. 10 Michigan is waiting again in the quarterfinals.
 
"We've all looked at the bracket and we know if we win it's Michigan," Tarun said, "but the first thing we have to do is focus on Indiana. We beat them 6-1, but it was closer than that. They're a really good team and Sasha has been telling us that everyone will be coming to play because it is survive and advance. There is no underestimating anyone. We're just focused on Indiana right now."
 
Survive and advance, one-and-done, win-or-go home. Call it what you want, the Hawkeyes are ready.
 
"I love things like this. It's all or nothing. You have to go out and give it your all or you're done," said junior Zoe Douglas. "I know that everyone on my team will go out and give their very best."
 
The Hawkeyes will likely need to win four matches in four days to advance to the NCAA Championships. That's a big picture goal. The short-term reality is Iowa will learn and improve from this experience, and the longer the trip the better.
 
"The more they play the better they get, so I'd love to see us extend the season as long as we can go," said Schmid. "At the end of the day we'll see where the chips fall. Let's just keep the season going. Survive and advance."
  
Fans can view http://bit.ly/2oCn344 for all tournament information. All matches will be streamed on FightingIllini.com. Links will be activated prior to each match. Live stats will also be provided on FightingIllini.com.