Hawkeye Fan Shop — A Black & Gold Store | 24 Hawkeyes to Watch 2016-17 | Hawk Talk Monthly — May 2017
 
IOWA CITY, Iowa — University of Iowa assistant coach Erica Demers has been named head coach at the University of Alabama at Birmingham, announced Monday by UAB.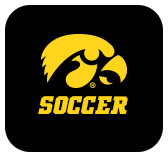 "We are happy for Erica and this opportunity that has been presented to her," said UI head coach Dave DiIanni. "Being a first-year head coach is exciting; it is an opportunity that Erica has worked very hard to create for herself."
 
"I am grateful to everyone whom I have had the privilege to work with at the University of Iowa," said Demers. "I appreciate all that the school has done for me.
 
"A special thanks to Dave DiIanni, whom I have been side-by-side with since the start of my coaching career, thank you for guiding me and helping to mold me into the coach I am today."
 
Demers joined the UI program after spending nine seasons with DiIanni at Grand Valley State, the final two as associate head coach. In her first season in Iowa City, Demers helped lead the Hawkeyes to a 14-7-1 overall and a 7-5-1 Big Ten record to notch the program's third top-five league finish since 2011.
 
During the 2015 season, Demers helped senior Hannah Clark lead the Big Ten in saves (105), saves per game (5.83) and tie for sixth in shutouts (six). Clark ended her career as the winningest goalkeeper in program history (36 victories) and was tops in the record books in career shutouts (26) and third in career saves (321).
 
Last season, Iowa posted an 8-11-0 record featuring a young team with eight freshman and 12 underclassmen. Overall, during her three seasons at Iowa, Demers helped the Hawkeyes to 29 victories, coached three All-Big Ten, two all-region, and 31 Academic All-Big Ten selections.
 
"Erica has had an integral role the last three years in the culture we are creating in our program," said DiIanni. "We are all excited for the opportunity she has at UAB and wish her great success in her first head coaching position."
 
Demers is the second assistant coach under DiIanni to advance to a Division I head coaching position; Julie Hanley left Iowa last summer to become head coach at Indiana State.