Hawkeye Fan Shop — A Black & Gold Store | Hawk Talk Monthly — June 2017
IOWA CITY, Iowa — The National Iowa Varsity Club and the University of Iowa Athletics Department announced Tuesday that Tom Dunn, Kris (Fillat) Buchanan, Robert Gallery, Marty Kistler, Toni (Neykova) Bickford, Barb (Willis) Randall, and Andre Woolridge will represent the 2017 Hall of Fame class.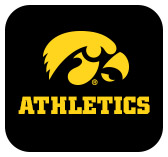 The 29th Hall of Fame class will be inducted into the National Iowa Varsity Club Athletics Hall of Fame on Friday, Sept. 1, 2017 — the night prior to the Iowa football team's season opener against Wyoming.
 
All former Hawkeye athletes who have won at least one major letter are eligible for the Iowa Athletics Hall of Fame. Athletes must have completed their eligibility at least 10 years and coaches/administrators at least five years prior to their selection.
 
The UI Athletics Hall of Fame induction ceremony is Sept. 1 at 6:30 p.m. (CT) inside the Grand Coral Ballroom at the Coralville Marriott Hotel and Convention Center. A hors d'oeuvres and cocktail reception precedes the induction ceremony at 5:30 p.m. 
 
The induction ceremony and reception is open to the public. Tickets may be purchased for $25 by sending your name and check to the National Iowa Varsity Club, ATTN:  HoF Induction Ceremony, University of Iowa, N411 CHA, Iowa City, IA, 52242 by Friday, August 18.  For more information please call the Varsity Club office at (319) 335-9438.
 
Student-Athletes
Kris (Fillat) Buchanan, Field Hockey
Kris Fillat was a first team All-American in 1990 and 1992 and was named to the All-Region team in 1989, 1990, and 1992. She led Iowa to three NCAA Final Four Appearances and was a first team All-Big Ten honoree in 1990 and in 1992, when Iowa won the regular season conference championship. She was a member of the United States Olympic team in 1996, was a member of three U.S. World Cup teams, and was a member of the U.S. National team until 1999. 
 
Robert Gallery, Football
Robert Gallery was a consensus All-American and recipient of the Outland Trophy, awarded to the nation's best interior linemen, in 2003. He was a two-time first team All-Big Ten honoree, leading Iowa to a Big Ten conference title in 2002 and appearances in the 2003 Orange Bowl and 2004 Outback Bowl. The Hawkeyes were 21-5 over Gallery's final two seasons and finished both years ranked eighth in the Associated Press poll. He was selected second overall by the Oakland Raiders in the 2004 NFL Draft.
 
Marty Kistler, Wrestling
Marty Kistler won consecutive NCAA titles for the Hawkeyes in 1985 and 1986 and was named Outstanding Wrestler of the NCAA Championships in 1986. The Hawkeyes won four national titles when Kistler earned varsity letters in 1982, 1984, 1985, and 1986. Kistler was an All-American and Big Ten Champion from 1984-86, helping Iowa win conference titles each season.
 
Toni (Neykova) Bickford, Women's Tennis
Toni Neykova was named Big Ten Freshman of the Year in 1999 and went on to earn first team All-Big Ten honors from 1999-2002. Neykova and teammate Shera Wiegler became the first doubles team in program history to compete in the NCAA tournament in 1999. They made a return appearance in 2000, and in 2002 Neykova became the first Hawkeye in program history to compete in the singles tournament at the NCAA Championships.
 
Barb (Willis) Randall, Volleyball
Barb Willis is Iowa's all-time leader in career blocks and ranks among the program's top 10 in career kills, digs, and attack percentage. She earned All-Big Ten honors in 1988 (second team), 1989 and 1990 (first team), and was named honorable mention All-America in 1990. She was also named Iowa's Volleyball Player-of-the Decade. She competed on the United States National Team from 1991-93, and played in the 1991 World University Games and 1991 Pan American Games.
 
Andre Woolridge, Men's Basketball
Andre Woolridge was a first team All-Big Ten and third team All-American in 1997 when he became the first player in Big Ten history to lead the league in scoring and assists in the same season. Woolridge played three seasons for the Hawkeyes from 1994-97 after transferring from Nebraska. He graduated as the school's all-time leader in assists and still holds the top two records for assists in a single season. Woolridge guided the Hawkeyes to NCAA tournament appearances in 1996 and 1997.
 
Coach
Tom Dunn, Men's Gymnastics Head Coach
Tom Dunn led the Iowa men's gymnastics program to 18 top-10 finishes at the NCAA Championships before retiring in 2010 as the "Dean" of Hawkeye head coaches. Dunn took over the Iowa program in 1981 and led the Hawkeyes to Big Ten titles in 1986 and 1998. Under his leadership, Iowa won five individual NCAA titles, 35 Big Ten individual tiles, and earned 67 All-America honors. He was named Big Ten Coach of the Year three times (1997, 1998, 2006), and earned regional Coach of the Year honors in 1986, 1998, and 2006.