Hawkeye Fan Shop — A Black & Gold Store | KinnickEdge.org | Hawkeyes in the NFL | Hawk Talk Monthly — June 2017 | A VIDEO — A Look Toward the 2017 Season | 2017 Football Tickets
Editor's Note: The following first appeared in the University of Iowa's Hawk Talk Daily, an e-newsletter that offers a daily look at the Iowa Hawkeyes, delivered free each morning to thousands of fans of the Hawkeyes worldwide. To receive daily news from the Iowa Hawkeyes, sign up HERE.
By ALYSSA KLOSTERMANN
hawkeyesports.com
 
IOWA CITY, Iowa — Committing to be a leader on the 2017 University of Iowa football field isn't the only vow defensive lineman Nathan Bazata is making this coming year. The redshirt senior recently made it official with his girlfriend, Emily Brichacek, when he proposed after dating six years.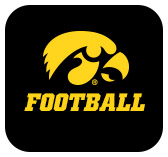 The couple out of Howells, Nebraska, grew up just miles apart from one another.
 
"I lived 15 miles north of town and she lived 15 miles south" Bazata said. "We would meet in the middle at this old abandoned farm. It's where we would always hang out."
 
But on March 10, 2017, that abandoned farm hosted one of the most intimate moments in Bazata's young life.
 
"The barn is where I asked her to prom so I figured why not ask her to marry me there," said Bazata.
 
The wedding is scheduled for March 10, 2018, exactly one year from the date of the engagement. With a smile stretching from ear to ear, Bazata explained his excitement for his big day.
 
"It just happened to work out that when I proposed, one year later is a Saturday, March 10th. It's a special day for us."
 
Until then, one thing stands between today and the day Bazata says, "I do": the 2017 football season. As he enters his final season as a Hawkeye, Bazata is focused on taking one step forward each day. Coming off a lingering ankle injury in 2016, spring ball was quickly out of the picture.
 
"We held Nathan out during the spring due to injury," said UI head coach Kirk Ferentz. "He missed a lot of time. Our priority was to get him healthy. We've seen him play. We know what he can do. We are counting on him as a leader and a good football player."
 
Bazata has started 24 games over the past two seasons. He was named an All-Big Ten honorable mention selection in 2016 after totaling 39 tackles, three tackles-for-loss, and three pass break-ups.
 
"I'm not 100 percent, but I'm slowly working my way back into it," said Bazata. "I feel like I learned more from the sidelines during this past spring ball than any other spring season that I participated in."
 
Bazata used the time to his benefit, and applied what he learned while mentoring the next wave of interior defensive linemen.
 
"I remember when I was a young guy, I had a lot of technique problems," Bazata said. "That's what I see in our younger guys now. I can help them with their technique and get them to focus on one thing each day to improve on."
 
"He is one of the greatest leaders I've seen in the sport of football" said free safety Brandon Snyder. "No one loves Iowa football more than Bazata. He literally bleeds black and gold."
 
The UI Athletics Ticket office is now accepting orders for three-game mini-packs, while single game tickets for games versus Wyoming (Sept. 2), North Texas (Sept. 16), Illinois (Oct. 7), and Purdue (Nov. 18) are now on sale. The mini-packs are $185 and include attending three of the seven home games on the 2017 schedule. Fans can learn more information and purchase mini-packs and single game tickets at hawkeyesports.com/swarm17 or by calling 1-800-IA-HAWKS.