Hawkeye Fan Shop — A Black & Gold Store | Hawkeyes in the NBA | 2017-18 Men's Basketball Ticket Wait List
Editor's Note: The following first appeared in the University of Iowa's Hawk Talk Daily, an e-newsletter that offers a daily look at the Iowa Hawkeyes, delivered free each morning to thousands of fans of the Hawkeyes worldwide. To receive daily news from the Iowa Hawkeyes, sign up HERE.
By RICK BROWN
hawkeyesports.com
IOWA CITY, Iowa — Jack Nunge is a numbers guy.
 
"I really excel in math," said Iowa's 6-foot, 11-inch freshman forward. Nunge scored a perfect 36 on the math portion of the ACT. That's a first for University of Iowa men's basketball head coach Fran McCaffery.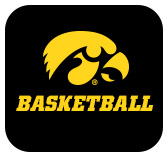 "And I've had some smart guys," McCaffery said. "I coached two Academic All-Americans of the Year in Pat Garrity (at Notre Dame) and Jarrod Uthoff."
 
A pre-med major, Nunge wants to follow his father's footsteps into the medical profession.
 
Dr. Mark Nunge is an emergency medicine specialist at Deaconess Gateway Hospital in Evansville, Indiana. He was also an emergency specialist at University Hospitals in Iowa City before taking a new job in Indiana.
 
Jack was in fifth grade at the time. As the Nunges were preparing to leave, a new family had just bought a house in the neighborhood. McCaffery had just changed jobs, too, leaving Siena to become Iowa's new coach.
 
As McCaffery rebuilt the Hawkeye basketball program, Nunge was starting to grow and develop some impressive basketball skills. He stood 6-foot as a freshman, then 6-3 as a sophomore, 6-7 as a sophomore, 6-9 as a junior, and 6-11 as a senior.
 
"I didn't even make the junior varsity team as a freshman," Nunge said. "But I ended up starting (on the varsity) as a sophomore."
 
Nunge's basketball skills are a family trait. His father played at the University of Rochester (New York). His mom, Beth, played at Central College in Pella. Beth, whose maiden name is Poppens, is from Aplington. Jack's cousin, Chelsea Poppens, was a 1,400-point scorer at Iowa State. Jack's oldest sister, Rebecca, is a junior and a 6-2 outside hitter on Notre Dame's volleyball team.
 
Nunge was a sophomore at Castle High School when Iowa assistant coach Sherman Dillard first saw him play. Dillard told McCaffery to check him out over the summer, and then reminded the Iowa coach of his connection to Nunge.
 
"Sherm said, 'He used to live right down the street from you,'" McCaffery said.
 
So McCaffery checked Nunge out on the AAU summer circuit, and two words came to his mind as he watched: Jarrod Uthoff. Iowa became the first Division I power five school to offer him a scholarship, and there were some more Iowa cards to play in the recruiting process. One, his mom's Iowa roots. And two, Nunge left the state as a Hawkeye fan and never changed his allegiance.
 
"I was always a Hawkeye fan, even when I lived (in Indiana)," Nunge said.
 
Nunge averaged a double-double as a junior for a 19-6 team. He returned to his roots, making three trips to Iowa City before committing to the Hawkeye program his senior year.
 
"I think it's going to be fun, and I'm looking forward to playing in the best conference in the country," Nunge said.
 
Nunge piled up plenty of honors during a 24-4 senior season that ended with a crushing loss. Playing to reach the state championship game, Castle lost to Indianapolis Ben Davis on a last second 3-pointer. Ben Davis went on to win the state title.
 
Nunge averaged 22.8 points, 11.6 rebounds, and 3.5 blocked shots as a senior. He was one of four finalists for Indiana's Mr. Basketball and became his school's first Associated Press first-team all-state selection in history. Nunge finished with 1,376 career points.
 
Now, back to the Uthoff comparison. Nunge's heard it a lot.
 
"There are a lot of people who think I'm like him," Nunge said of a guy who cracked the Dallas Mavericks' roster last season as an NBA rookie. "Coaches, too."
 
McCaffery said those comparisons are fair.
 
"Because they're both long, they both defend, shoot 3s, and put it on the deck," McCaffery said. "(Nunge's) a little different in the fact that he's 6-11 (Uthoff was 6-9). He's a terrific rebounder and has a good feel for the game. They're similar personality-wise, quietly competitive, and they react and compete."
 
Nunge's skillset seems tailor-made for McCaffery's up-tempo system, as does his ability to score from the perimeter and in the paint. Having a 6-11 player who can run like Nunge is another plus. He said his running ability is in his genes.
 
"My dad is a huge runner and I've always had good endurance," Nunge said. "Running the floor and taking off as soon as I see we have the ball, that's something I've always tried to do."
 
When Nunge watched Iowa play last season, it gave him confidence he made the right college choice.
 
"Some of my best aspects correlate to the system well," Nunge said.
 
As far as the comparison to Uthoff, time will tell if it is a good one. Uthoff had a unique skill set, showing an ability to score inside, get to the basketball off the bounce, and pepper defenses with his 3-point shot.
 
"I see a few comparisons, especially in their shooting," junior forward Nicholas Baer said. "Nunge is a good 3-point shooter. That's something I've been impressed with. I don't think any incoming freshman is going to be as polished as a senior All-American like Jarrod Uthoff, but I can tell he's going to be a good player. He has a similar game to Jarrod, but he's also Jack Nunge."