Hawkeye Fan Shop — A Black & Gold Store | 2017 Football Season Tickets | KinnickEdge.org | Fight For Iowa | Hawk Talk Monthly — June 2017 | A VIDEO — A Look Toward the 2017 Season | Signing Day Central
Editor's Note: The following first appeared in the University of Iowa's Hawk Talk Daily, an e-newsletter that offers a daily look at the Iowa Hawkeyes, delivered free each morning to thousands of fans of the Hawkeyes worldwide. To receive daily news from the Iowa Hawkeyes, sign up HERE.
By DARREN MILLER
hawkeyesports.com
 
IOWA CITY, Iowa — Nile Kinnick is headed to the silver screen, 80 years after winning the Silver Football as the best player in the Big Ten Conference.
 
The 1939 Heisman Trophy winner will be reunited (in film) with coach Dr. Eddie Anderson, quarterback Al Coupee, tackle Mike Enich, end Erv Prasse and the rest of the gang in a movie called "The Ironmen" that hopes to premiere inside Kinnick Stadium prior to the 2019 college football season.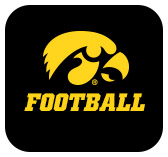 The movie is based on the book Nile, written by Tom Lidd of Cedar Rapids, Iowa.
 
Iowa City native Joe Heath, a 2001 graduate of City High School, is the executive producer of "The Ironmen." Heath has been making movies for more than a decade and the idea of a Kinnick/Ironmen film was the first he pitched when he moved to Los Angeles in 2006.
 
"It is very 'Rudy' — an inspirational, family film," Heath said. "I think it will be a movie that sticks with people, especially with people around here. You have all these football players going from (2-13-1) in the previous two seasons to 6-1-1, playing both ways.
 
"(Kinnick) was a selfless guy. His biggest hurdle was what he could do with every second of his life to help humanity."
 
There was a downward economic spiral in the state of Iowa in the 1930s, but heroes like the Ironmen arose. They were a collective group of student-athletes enrolled at the University of Iowa (State University of Iowa back then) to earn degrees and rebuild a football program. Hawkeye teammates drew strength from each other — on and off the field — knowing they were fighting, surviving, and dreaming together.
 
"You must feel the depths of depression before being able to soar with the eagles," Nile Kinnick, Sr., once told his soon-to-be-famous son. "Challenge affords the opportunity to rise above."
 
Enter Anderson, a strict man who preferred to be called Dr. Eddie. He played football at Notre Dame for Knute Rockne and was determined to have the best-conditioned team in the nation. He started "spring" drills in February and worked the players so hard that a roster that originally began at more than 80 was trimmed to less than 40 when the 1939 season began. The Ironmen were the first to implement a no-huddle offense.
 
Anderson didn't just teach football, but a way of living, trying, and succeeding. The Hawkeyes were picked to finish last in the Big Ten prior to the 1939 season, but soon captivated fans in Iowa City and beyond. Sixteen thousand showed up to watch a season-opening 41-0 win over South Dakota in Iowa Stadium. The final two home games — upset victories over Notre Dame and Minnesota — were played before sellout crowds of 53,000.
 
"Even if you know the story of the 1939 season, the movie experience will give a deeper appreciation for Kinnick and the University of Iowa's history," Heath said. "You are going to be inspired, not only by Nile Kinnick, but this entire team because they were outmatched and outgunned, but they were not out-willed."
 
Heath and his crew will begin filming "The Ironmen" in the summer of 2018. Most of the filming will be done in Chicago, but several scenes will be shot on the Pentacrest and Heath intends to bring the local community out to be extras.
 
If all goes according to plan, the movie will premiere before the 2019 season (the 80th anniversary of the 1939 season) inside Kinnick Stadium. A world record attendance mark for a movie premiere could be in jeopardy.
 
"The story of Nile Kinnick represents the core values of Hawkeye athletics," said Gary Barta, director of athletics at the University of Iowa. "Our motto Win. Graduate. Do it Right. was played out perfectly in Kinnick's athletic success, his commitment to academics, and his display of selfless service to our military.
 
"I'm excited about the possibility of Kinnick's story being told on the big screen. The story is about the Hawkeyes, but more importantly, it's about strong Midwestern values, service to our country, and passion for college football."
 
Heath is currently raising local monies to finish the budget.
 
"As a filmmaker and story teller, it's important to have the Iowa people involved in this," said Matt Zboyovski, producer of 'The Ironmen.' "If you just give it over to a studio, they will tell their own story."
 
Fans can stay up-to-date on "The Ironmen" by interacting on Twitter (@TheIronmenMovie) and Facebook (facebook.com/TheIronmenMovie).