Hawkeye Fan Shop — A Black & Gold Store | 2017 Football Season Tickets | KinnickEdge.org | Fight For Iowa | Hawk Talk Monthly — June 2017 | 2017 Football Fall Camp Central | VIDEO — Coach Kevin Spencer
Editor's Note: The following first appeared in the University of Iowa's Hawk Talk Daily, an e-newsletter that offers a daily look at the Iowa Hawkeyes, delivered free each morning to thousands of fans of the Hawkeyes worldwide. To receive daily news from the Iowa Hawkeyes, sign up HERE.
By DARREN MILLER
hawkeyesports.com
 
IOWA CITY, Iowa — Kevin Spencer brings knowledge and experience to the University of Iowa football program, especially in the area of special teams where just about everything will be new in 2017.
 
Spencer and Iowa head coach Kirk Ferentz worked together with the Cleveland Browns in the early 1990s when Ferentz was offensive line coach and Spencer was offensive quality control coach.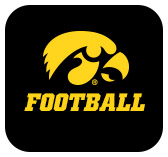 After two Super Bowls and 25 years in the NFL coaching the Browns, Colts, Steelers, Cardinals, and Chargers, Spencer was hired in June as Iowa's quality control assistant, who will work with special teams. Spencer has coached at the professional, Division III, Division IA, and high school levels, but this will be his first stint with a Power Five program.
 
"Kevin is a wealth of knowledge special teams-wise," Ferentz said. "I think he is going to be a great resource for (special teams coordinator) LeVar (Woods) as he transitions into this new role. It was an unexpected development that he became a candidate, but a pleasant one as well. We're fortunate to have him join our staff."
 
Last season Spencer worked with St. Augustine High School in San Diego, where his son, Jack, was a student-athlete.
 
"I had a great experience coaching high school kids," Spencer said. "You feel like you can still have an impact on a young man's life.
 
"It was intriguing to think that (Iowa) is a student-athlete educational environment; why not come to a place at this level and coach for a guy I have great admiration for? He is the guy who wears the white hat, that's who you want to work for. The combination of Iowa football, coach Ferentz, and the success they have here, I thought it would be a unique opportunity."
 
For the Hawkeyes, the timing appears perfect to have a veteran presence lending a hand in whatever way the NCAA will allow. Woods is in his 10th year at Iowa, but this will be his first season as special teams coordinator. In 2017, the Hawkeyes will have a new punter, kick returner, punt returner, and kickoff specialist.
 
"That's kind of exciting too, because you learn in the NFL that you have to not only manage the roster, but you have to be a mentor and a coach to the specialists," Spencer said. "How can I help the coaches? Is there anything in my past or my experiences that could help teach our athletes or help our coaches better prepare?
 
"LeVar is the tight end coach and that is a tough position — you have run game, pass game, blitz pickup — so how can I help him take some of the stress off in preparation for opponents or practice planning?"
 
Spencer was born in Queens, New York, in 1953. He attended Springfield College in Springfield, Massachusetts, where he didn't reach his goal of being the next Larry Wilson or Pat Fischer, two undersized cornerbacks who starred in the NFL.
 
"You go to Springfield and get thumped, so you go, 'Maybe I should think about coaching; playing in the NFL might not be in my reach.'" Spencer said.
 
Spencer worked with the Browns from 1991-94, the Raiders from 1995-97, the Colts from 1998-2001, the Steelers from 2002-06, the Cardinals from 2007-12, and the Chargers from 2013-15. He was named NFL Special Teams Coach of the Year in 2003. Spencer was with the Steelers when they won Super Bowl XL over Seattle, 21-10, on Feb. 5, 2006, in Detroit. He was with the Cardinals when they lost Super Bowl XLIII to Pittsburgh, 27-23, on Feb. 1, 2009, in Tampa, Florida.
 
A return to professional football isn't what drives Spencer. He is excited to be part of the Hawkeye program.  
 
"(Former Michigan coach) Bo Schembechler said guys who are looking ahead are usually the guys who don't last in this business very long," Spencer said. "You ought to pay attention to the job at hand, so my job is how can I help Iowa be the best it can be right now?"
 
Spencer and his wife, Rosemarie, have two children: Timmy is a sophomore at the University of Arizona in Tucson, Arizona, and Jack is a freshman at the University of Colorado in Boulder, Colorado.