Hawkeye Fan Shop — A Black & Gold Store | 2017 Football Season Tickets | KinnickEdge.org | Fight For Iowa | Hawk Talk Monthly — June 2017 | 2017 Football Fall Camp Central | VIDEO — James Butler
Editor's Note: The following first appeared in the University of Iowa's Hawk Talk Daily, an e-newsletter that offers a daily look at the Iowa Hawkeyes, delivered free each morning to thousands of fans of the Hawkeyes worldwide. To receive daily news from the Iowa Hawkeyes, sign up HERE.
By DARREN MILLER
hawkeyesports.com
 
IOWA CITY, Iowa — For James Butler, Plan A coming out of high school changed to Plan B as a graduate transfer running back at the University of Iowa.
 
Butler is a native of Bloomingdale, Illinois, and he attended several Hawkeye football games while growing up. But there was a reason Butler wasn't heavily recruited out of high school: He began at Bartlett in 2010, then transferred to St. Francis in Wheaton, in 2012. Because of eligibility rules, he missed the 2012 season and played just one season for the Spartans.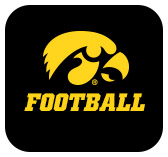 Switching high schools might have put a dent in Butler's athletic recruitment, but it made him a stronger student. He said his 3.2 grade-point average at Bartlett improved to 3.5 at St. Francis, a private school.
 
On the field, Butler was named first-team all-state in 2013 after running for 1,185 yards with 19 touchdowns, but by the time he compiled a highlight tape from his first three games, most programs had identified and received verbal commitments for their Class of 2014 running backs. Butler relied on a relationship with Lester Erb, who spent 12 years coaching in Iowa City, but left the Hawkeyes for Nevada after the 2012 season.
 
"Coach Erb was my guy, he believed in me ever since high school and I have known him since I was 14 or 15 years old, going to Iowa camps since I was a sophomore in high school," Butler said. "I found out coach Erb went to Nevada and that's what drew me there. I had known and trusted him so long that it wasn't a hard decision to go that far from home."
 
In three seasons with the Wolf Pack, Butler rushed for 3,316 yards and 27 touchdowns, averaging 5.5 yards per carry. His explosiveness found its way into Nevada's passing attack last season. After catching 12 passes as a freshman and sophomore, Butler hauled in 37 for 381 yards and three touchdowns a year ago.
 
"Being able to put that on the stat sheet was nice," Butler said.
 
There have been 16 games where Butler has rushed for more than 100 yards as a collegian, including 196 against UNLV and 189 against Colorado State. During his time at Nevada, Butler has played against Power 5 programs Notre Dame, Purdue, Arizona, Texas A&M, and Washington State. Boise State and Wyoming — along with Nevada — are members of the Mountain West Conference. Wyoming visits Kinnick Stadium on Sept. 2 in a season opener for both schools.
 
"As a team, I want to win our division and go to the Big Ten Championship Game," Butler said. "Individually, I will try to become more of a leader on the team, even though I'm new."
 
Butler was named honorable mention All-Mountain West in 2016 after rushing for 1,336 yards. The Wolf Pack went to bowl games in 2014 and 2015.
 
On Dec. 2, 2016, Nevada hired Hawkeye letterwinner Jay Norvell as head coach. Since Butler already earned a degree in communications with a minor in business from Nevada, he decided to explore his options as a graduate transfer. He kept coming back to that Plan A from high school.
Iowa does a tremendous job running the ball and it has a history of great offensive linemen. I looked into the statistics and logistics of it all and I saw a good fit. — James Butler
"Iowa does a tremendous job running the ball and it has a history of great offensive linemen," Butler said. "I looked into the statistics and logistics of it all and I saw a good fit."
 
Butler finished his final exam at Nevada on July 13 and he arrived in Iowa City on July 17. He is the newest member of a Hawkeye offensive backfield that includes senior Akrum Wadley, junior Marcel Joly, sophomore Toks Akinribade, and freshmen Kyshaun Bryan, Sam Cook, Ivory Kelly-Martin, and Toren Young. Wadley was named third-team All-Big Ten in 2016 after rushing for 1,081 yards and 10 touchdowns and catching 36 passes for 315 yards and three touchdowns.
 
"I feel you can put any of those guys in the (running back) position right now and they will make a huge impact," Butler said. "I am still trying to make an impact myself. I believe in all the running backs we have here; they could go in a game right now and make a substantial impact."
 
At 5-foot-9, 215 pounds, Butler won't be the biggest, fastest, or strongest running back in the Big Ten. His strength is exerting the effort needed to break tackles and the elusiveness to make defenders miss. 
 
"It's effort," Butler said. "Linemen can only block so many people, so you have to help yourself by being able to break tackles."
 
Butler has been impressed by the welcoming atmosphere inside the Richard O. Jacobson Football Operations Building. He is leaning on Wadley, center James Daniels, and quarterback Tyler Wiegers to assist in learning Iowa's offense.
 
"I am trying to earn a spot on the team like anyone else," Butler said. "I'm a new face, but the older guys are welcoming and I respect that from the team. I have been getting better every day so I can go a little faster and try to pick up the offense as quick as I can."
 
Iowa opened fall camp Sunday and will hold its annual Media Day on Saturday, beginning with head coach Kirk Ferentz's news conference at 1:30 p.m. (CT).