Hawkeye Fan Shop — A Black & Gold Store | 2017 Football Season Tickets | KinnickEdge.org | Fight For Iowa | Hawk Talk Monthly — June 2017 | 2017 Football Fall Camp Central | Media Day Photo Gallery | Practice Photo Gallery | Ferentz Transcript (PDF)
By JAMES ALLAN
hawkeyesports.com
 
IOWA CITY, Iowa — The same holds true each August for college football programs across the country.  The start of fall camp brings a year of unexpected twists, turns, and opportunity.
 
"Every time you start a new season, you have new challenges and opportunities," University of Iowa head football coach Kirk Ferentz said Saturday at the 2017 Iowa Football Media Day in the Feller Club Room in Carver-Hawkeye Arena.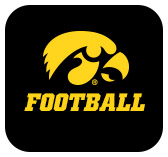 "It's a different equation and the trick is to put it all together. That's the beauty of college football."
 
In 2017, the Hawkeye mixing-and-matching includes replacing six offensive and three defensive starters. There is no C.J. Beathard, Desmond King, or Jaleel Johnson, but Ferentz likes what he has seen from the returning and new faces.
 
"Our older guys have taken a step since April," he said. "That's imperative for us to have a good football team and a successful season. Everybody has to be moving in the right direction, that means improving.
 
"We have a lot more of that going on as we move forward, but the players are wired in and have been attentive. We've had ups and downs, but they have been attentive and the new staff is meshing right now."
 
The new staff is on the offensive side of the ball where Brian Ferentz takes over as offensive coordinator, while Tim Polasek and Kelton Copeland now preside over the offensive line and wide receiver positions, respectively.  Ken O'Keefe is an old acquaintance returning as quarterbacks coach.
 
"The guys are working well together, they're sharing ideas and everybody is aligned with our philosophy of having a team that's going to be hard-nosed, physical, and tough-minded and play sound football," said Ferentz. "That's what we're looking for."
 
Iowa's 2017 success will hinge on the play of the upperclassmen, specifically the guys that have been around the block; players like Akrum Wadley, Sean Welsh, Ike Boettger, Josey Jewell, Nathan Bazata, and Bo Bower.
 
"Those guys have played good football, but if they don't play better, we're not going to be a good team," said Ferentz. "That is one truism; we have never had a good football team if our seniors aren't huffing it and not playing their best football.
 
"All you have to do is go back to 2015; Dillon Kidd punted his best, Marshall (Koehn) did a great job as a kicker, Jordan Canzeri, that was by far his best year as a player and last year, look at Leshun (Daniels, Jr.,), that was his best year. 
 
"That's what we need from our older guys. If they do that and a younger guy beats them out, that means we have recruited somebody pretty good."
 
It's still too early to determine which freshmen will play, but Ferentz says practice and patience will help things shake out.
 
"It's important to determine in the next couple of weeks who we think can help us," said Ferentz. "There are a couple of guys that have a realistic shot and then there are some guys that might. We have an open mind, if a guy can help us at any position, we're letting him go."
 
Ferentz said the quarterback competition between Nathan Stanley and Tyler Wiegers is coming along.  Both are taking first-team reps and both are moving forward.
 
"They've both made strides since the spring and have improved in the last couple of days as well," said Ferentz. "All of us as coaches and players feel good about both guys and feel like they both can lead us to good results. I'm happy with what we're seeing so far."
 
The Hawkeyes will hold their annual "Kids Day at Kinnick" on Aug. 12 inside Kinnick Stadium.  Gates will open at 11 a.m. (CT), autographs begin at 11:30 a.m., and practice at noon.  Kid's Day festivities will be held in the Krause Family Plaza beginning at 9 a.m.