Hawkeye Fan Shop — A Black & Gold Store | Fight For Iowa | KinnickEdge.org
Tyler Kluver is a senior long snapper on the University of Iowa football team from Marshalltown, Iowa. Kluver has handled the long snaps for punts, field goals, and PATs for the past three seasons. Kluver spoke with hawkeyesports.com Saturday at the annual Media Day in Iowa City.
 
Coming from a Hawkeye family.. is Iowa football always something you wanted to do?
"Yeah it is, you know I was always decked out in Hawkeye gear and always coming to games. As I got older and into high school, it became more of goal to become a Hawkeye."
 
If you could play any other position on the field what would it be and why?
"I'd have to say linebacker. There are days where I miss the tackling drills and the hard hitting. Although today I am too slow unlike my buddies Josey (Jewell) and Bo (Bower).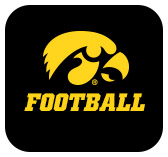 What is the most memorable game you've played as a Hawkeye?
"The 57-yard game winner versus Pittsburgh in 2015 or the kick versus Michigan. Both of those moments were good times."
 
How do you feel you've changed as a player under head coach Kirk Ferentz?
"The opportunity to play under all of these great coaches has become life changing. These coaches here, they build men, I am so much more mature and I have all those great values you simply can't buy anywhere else."
 
What did you do this offseason to better your skills and prepare for the 2017 season?
"A lot of snapping and getting familiar with the new specialists. Learning their tendencies is so crucial."
 
What are your hobbies outside of football?
"Video games are fun occasionally. I'm big into Crossfit and hopefully I can continue to do that for quite some time."
 
If you had to choose four teammates to take on Family Feud, who would they be?
"Kevin Ward, Matt Nelson, Tyler Weigers, and Josey Jewell."
 
In one word, how would your teammates describe you?
Quirky or unique.
 
Favorite place to eat?
Stella
 
What is the best advice you've ever received?
"I actually got this from former Hawkeye Casey Kreiter. He gave me this fake 1 million dollar bill with a note on it. Don't ever let people give you too much crap, this 1 million dollar bill is to remind you that our job on this football team is worth 1 million bucks."
 
What is your go-to karaoke song?
"Bad Blood by Taylor Swift"