Hawkeye Fan Shop — A Black & Gold Store | 2017-18 Men's Basketball Ticket Wait LIst | European Tour Central
By MATTHEW WEITZEL
hawkeyesports.com
LUCERNE, Switzerland — Being a part of the Hawkeye family is special. No matter where you travel to — not just in the United States but around the world – Iowa fans are there.
 
The men's basketball team played their first exhibition game last night in Heidelberg, Germany, and saw Black and Gold shirts waiting for the bus as the team arrived for the game against the German All-Stars.
 
"We pull up in front of the gym and there were Hawkeye fans greeting us," said head coach Fran McCaffery. "It never ceases to amaze me wherever we go, the love that we get from the Hawkeye faithful."
 
Dan Hatz is an Omaha native and arrived in Germany two weeks ago and was thrilled to hear the Hawkeyes were going to be playing so close to him.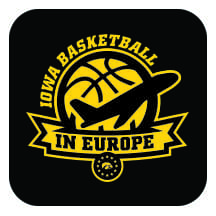 "We found out through social media that the Hawkeyes were going to be in town so we had to drive up here and support the team."
 
Darrin Oliphant is a Waterloo, Iowa, native who has been in Germany since 1973 and was sporting a gold Hawkeye shirt in the stands Tuesday night.
 
"I live an hour from here so it was a no brainer to come here," Oliphant said.
 
Iowa City native Justin Laughead was happy when he heard the team was going to be traveling through Europe.
 
"The Hawkeyes have a lot of fans here in Europe," said Laughead. "Any chance we get to see the Hawkeyes in Europe we're going to be there."
 
Kip Mactaggart brought his son from Ramstein, Germany, to watch the Hawkeyes cruise past the German All-Stars by 34 points.
 
"What's been great is that we have been able to mingle with our fans after the game," McCaffery said. "We can't thank them enough."
 
The team spent nearly all of Wednesday traveling to its next destination by bus. The Hawkeyes traveled through three countries on Wednesday, eating breakfast, lunch, and dinner in Germany, France, and Switzerland, respectively.
 
Iowa returns to action Thursday evening when the Hawkeyes take on the Swiss All-Stars in Baden, Switzerland at 1 p.m. (CT). Follow team's social media platforms (Twitter, Facebook, Instagram) for additional content during its journey through Europe.