Hawkeye Fan Shop — A Black & Gold Store | 2017-18 Men's Basketball Ticket Wait LIst | European Tour Central
LUCERNE, Switzerland — University of Iowa men's basketball redshirt junior Nicholas Baer took the time this afternoon to write to Hawkeyenation about the experiences he and his teammates had this morning in Switzerland.
 
This morning we spent our time at the top of Mount Pilatus. The weather today was cloudy, foggy, and rainy, but the ascension towards the summit was majestic and peaceful. We started our ascension in a cable car that could fit four people per car, and we got up to about 4,000 feet. From there, we all were able to fill a larger cable car that had a capacity of 50 people and were able to reach the final destination towards the top of the mountain. Like many things in basketball and in life, the journey is one of the most enjoyable and influential parts in reaching a goal. Seeing trees of over 100-feet that have stood for hundreds of years was humbling and awe-inspiring.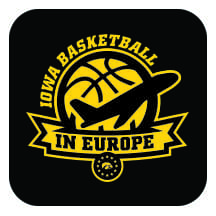 After reaching the welcome center at the point of Mount Pilatus, it was time to explore. There were several trails and walkways where we could view the beautiful scenery of the Swiss Alps, ranging from enormous mountain ranges, churches and animals of all sorts. Although the clouds and the rain made the trip a bit wet and cold, the beauty and calmness of being at 7,000 feet was unmistakable. No factories, no horns, no wifi connection. Just conversations full of "wow" and "we are really high up."
 
After discovering several paths that gave us great views of the surrounding area, many of my teammates and I decided to make the trek up to the summit. After reading the "enter at your own risk" sign and stepping in a giant puddle on the first step, there were a few cold feet about climbing to the summit. But from the encouragement and bravery of Jordan Bohannon and Ryan Kriener, we pursued. While climbing the multiple flights of stairs with slippery steps and discouraging railings, we all just tried to keep our breathing steady due to the increase in altitude. With winded breath and wet shoes, we reached the summit. After congratulating ourselves on a job well done by yelling at the top of the mountain, there were a few moments of quiet where we all took a small moment to realize that we were 7,500 feet up in the middle of a cloud. It might as well have been Mt. Everest to us.
 
After descending down back to the main area, I was met by a pleasant surprise from Dom Uhl and Cordell Pemsl. While I was hiking the summit with my other teammates, they visited the gift shop and presented me with a gift. The gift was a Eskimo Hat with the Switzerland emblem, a type of hat that I have worn the last three years every winter on every road trip, to every game. As much as I loved my old Hawkeye Eskimo Hat, this new Switzerland hat will begin a new era as we start this season. Keep an eye out for it.
 
I am thankful to have teammates that, quite literally, push me to reach new heights and ones that know me so well to purchase a Switzerland hat for 30 francs, knowing it will be priceless to me. Oh, and we play tonight against Swiss All-Stars, and we all are looking forward to another opportunity to play together. And we still have a whole week left! Stay tuned.
 
Go Hawks!
Nicholas Baer