Hawkeye Fan Shop — A Black & Gold Store | 2017 Football Season Tickets | Kinnick Edge | Fight For Iowa | 2017 Football Fall Camp Central
Editor's Note: The following first appeared in the University of Iowa's Hawk Talk Daily, an e-newsletter that offers a daily look at the Iowa Hawkeyes, delivered free each morning to thousands of fans of the Hawkeyes worldwide. To receive daily news from the Iowa Hawkeyes, sign up HERE.
By RICK BROWN
hawkeyesports.com
 
IOWA CITY, Iowa — Cornerback was a position of strength and experience on the University of Iowa football team in 2016.
 
All-American Desmond King anchored the right side. He finished his career with 53 starts. Greg Mabin, the left corner, had 35 career starts until an injury knocked him out of the final four games of the season.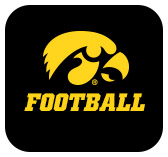 With King and Mabin now in NFL training camps, the cornerback position looks much different from an experience standpoint. Manny Rugamba has replaced King on the latest depth chart.  Josh Jackson has replaced Mabin.
 
Rugamba and Jackson have combined for four career starts.
 
"Greg and Desmond were great role models and leaders," said Jackson, a 6-foot-1, 192-pound junior from Corinth, Texas.
 
Backing up Jackson is Michael Olemudia, a 6-2, 200-pound sophomore from Farmington Hills, Michigan. He saw action in all 13 games last season. Backing up Rugamba is Cedric Boswell, a 5-11, 187-pound redshirt freshman from Beverly Hills, Michigan.
 
"We have three guys that have shown signs they can go out and have a chance to play pretty good defense right now," said Iowa head coach Kirk Ferentz. "That's where we're at."
 
Phil Parker, Iowa's defensive coordinator and defensive backs coach, says experience can be overrated. Parker said the experience players get in practice, where he puts them in pressure situations to see how they react, can be as valuable a learning tool as live action.
 
"I understand it's not playing in front of 70,000 fans at Kinnick Stadium against whoever you're playing against," Parker said. "But I think the pressure I try to put on them every day, to make sure they're doing their best, it should be easier when they get to the game."
 
Rugamba's first career start came under very bright lights, against second-ranked and undefeated Michigan on national television Nov. 12 last season. The 6-0, 185-pounder from Naperville, Illinois, joined King (2013) as the only true freshmen to start in the secondary for Iowa since 2002.
 
Rugamba made several big plays late in Iowa's 14-13 upset victory. He intercepted a Wilton Speight pass at the Iowa 25 with 3:43 to play. And in what turned out to be the Wolverines' final possession of the game, Rugamba tackled Jabril Peppers after a 1-yard gain on second down and broke up a Speight pass intended for Amara Darboh on third down.
 
"He made some big plays in a big game at critical times," Ferentz said. "Maybe as big of a play as we had all season. That has to be good for him as long as he keeps his feet on the ground and keeps thinking about getting better and working hard."
 
Parker also says Rugamba did some good things, but the game tape tells the complete story.
 
"Don't get me wrong, he did some great things," Parker said. "Some (plays) you can look back and say, 'Boy, he's lucky.' I'm not saying he didn't do a good job. It's just that sometimes the ball bounces a certain way and he ends up getting it."
 
Parker said that staying humble and putting in the work will pay dividends for Rugamba in the long run.
 
"He has done a good job of working hard and understands if you want to be great you have to keep working," Parker said.
 
Rugamba said the biggest thing he learned from King was to compete.
 
"As long as you're giving effort and competing and applying what you learned in practice, then things just might fall into place," Rugamba said.
 
Watching film of the Michigan game the day after opened his eyes to the big picture.
 
"I left that game knowing that I had plays to improve on," Rugamba said.
 
Ferentz said that the experience Jackson has picked up on special teams will help make him game ready when the season begins. Ferentz used wide receiver Riley McCarron, who is in camp with the Houston Texans, as an example of a special teams' player stepping up when called upon and not missing a beat.
 
"That's what I've seen from Josh, too," Ferentz said. "I was teasing him at the end of the summer. I got to watch him his last couple of workouts and told (strength coach) Chris Doyle, 'Josh is laughing at you.' The program is like elementary school for him. He had a good summer; he couldn't have done that two years ago. To see his growth and confidence is encouraging for all of us."