Hawkeye Fan Shop — A Black & Gold Store | 24 Hawkeyes to Watch 2016-17 | Hawk Talk Monthly — June 2017 | 2017 Football Tickets
By JACK ROSSI
hawkeyesports.com
 
IOWA CITY, Iowa – The University of Iowa football team showed off its new field turf in front of over 12,000 fans during the annual Kids Day at Kinnick on Saturday afternoon.
 
"I appreciate the fans turning out today. It was a nice crowd," UI head coach Kirk Ferentz said. "It was a good opportunity for our guys to mingle with the Kids Day concept and then we also had the Kid Captains here so that part aside from football was really nice."
 
The team's 12th practice of the year served as a first look for fans at Iowa's 2017 version and at the midpoint of training camp, it is evident there is still some work that needs to be done.
 
"I saw a lot of good things out there and a lot of things that we have to clean up quickly if we want to play in a couple weeks," Ferentz said. "Overall the effort has been good and the attitude has been good."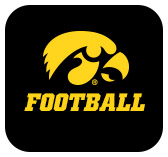 One of Iowa's biggest question marks is who will be under center in 2017 and after 12 practices that question remains unanswered with sophomore Nathan Stanley and junior Tyler Wiegers sitting neck and neck.
 
"We're going to let those guys compete," Ferentz said. "They have had 12 good days and it's gone back and forth a little bit. Hopefully we'll make a lot of strides in the next five or six days and maybe it will be clearer, but we'd like to let this ride out."
 
On the defensive side of the ball, senior linebacker Josey Jewell doesn't see any frontrunner for the quarterback position.
 
"They both have different positives and negatives," Jewell said. "It's hard to tell, but whoever is the biggest leader for the offense and can sling the ball the best will get the job."
 
Regardless of the winner of the quarterback competition, the tight ends will play a prominent role in first-year offensive coordinator Brian Ferentz' offense with two listed in the starting lineup.
 
"I am hoping we get as many tight ends in the offense as we can," sophomore Noah Fant said. "The unit as one is starting to do well and we're looking forward to a great year."
 
The Hawkeyes open the 2017 season against Wyoming on Sept. 2 at 11 a.m. (CT) inside Kinnick Stadium. Fans may purchase tickets online at hawkeyesports.com or over the phone at (800) IA-HAWKS.