Hawkeye Fan Shop — A Black & Gold Store | 2017-18 Men's Basketball Ticket Wait List | European Tour Central | Box Score (PDF) | Boxscore
By MATTHEW WEITZEL
hawkeyesports.com
VEDONA, Italy — Freshman Luka Garza led the University of Iowa men's basketball team to a 106-64 win over the Milan All-Stars Saturday evening to remain unbeaten on its European Trip. Garza was named the game's Most Valuable Player after leading all scorers and rebounds with 25 and 11, respectively.
 
Iowa led 60-44 at halftime and continued to extend its lead in the third and fourth periods. The Hawkeyes outscored Milan by nine in the third quarter and 17 in the fourth.
 
Three other Hawkeyes netted double figures: Isaiah Moss (18), Christian Williams (13), and Ryan Kriener (10). Moss was white-hot shooting the basketball, making 6-of-7 of his field goals, including 4-of-5 from 3-point range, and both free throw attempts. In addition to Williams' 13 points, the junior guard had a game-best seven assists and three steals. Kriener also had a game-best three blocks to go with his 10 points.
 
As a team, Iowa shot a blistering 60.6 percent (40-of-660 from the field and 77.8 percent from the foul line (14-of-18). Defensively, the Hawkeyes held Milan to just 29.7 percent (22-of-74) from the field.
HAWKEYE PERFORMER OF THE GAME
Who else but the game MVP, Luka Garza. Garza was efficient again shooting the basketball, going 8-of-11 from the field and 9-of-10 from the charity stripe in 22 minutes. Graza ripped down a game-best 11 boards, seven of which defensive, while also totaling two steals, one block, and one assist. In the three games played in Europe, Garza is averaging 22 points and nine rebounds. He is shooting 66.7 percent (22-of-33) from the field and 87.5 percent (21-of-24) from the foul line through three games.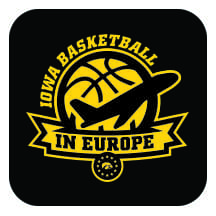 STAT OF THE GAME
Iowa utilized its height advantage again in this game. The Hawkeyes were credited with eight blocks, while Milan had zero. Kriener had three rejections, Dom Uhl had two, while Connor McCaffery, Charlie Rose, and Garza each had one.
COACH McCAFFERY'S COMMENTS
"We moved the ball tonight. Sharing the basketball is the key to our team and philosophy. That's why when you look at our box score, so many guys scored.
 
On Isaiah Moss' performance:
"It's great to see Isaiah playing the way he's playing, but I'm not surprised because he has been playing that way all summer. He's looking for his shot and going aggressive to the basket. Whatever the situation call for, that's what he's doing and that's the maturity you're seeing in his game."
 
On Luka Garza:
"Luka Garza never takes a possession off. He's always in the right place. He's fun to watch. He is one of the best players I have ever seen at finishing through contact."
LUKA GARZA'S COMMENTS
"It's great to see my hard work pay off. We came out here tonight with a great mindset, played great defense and were focused the entire game. It's an honor to come away with the MVP, but it was a team win."
 
NOTABLES
Garza was handed the MVP trophy after the game by a former Milan player's parents. The trophy is named in his honor after passing away recently.
Tonight's starting lineup featured Connor McCaffery, Christian Williams, Dom Uhl, Tyler Cook, and Ryan Kriener.
Iowa outrebounded Milan by 32 (54-32). The Hawkeyes grabbed 10 offensive rebounds and scored 15 points on the extra opportunities.
Iowa shot 60 percent or better from the field in two of the four quarters (second and fourth).
Eleven different Hawkeyes scored at least two points tonight.
 UP NEXT
Iowa will spend one more day in the beautiful city of Como before traveling to Venice on Monday for its final exhibition game. The Hawkeyes will face the Vicenza All-Stars Monday at 12:30 p.m. (CT).