Hawkeye Fan Shop — A Black & Gold Store | 2017 Football Season Tickets | Kinnick Edge | Fight For Iowa | 2017 Football Fall Camp Central
Editor's Note: The following first appeared in the University of Iowa's Hawk Talk Daily, an e-newsletter that offers a daily look at the Iowa Hawkeyes, delivered free each morning to thousands of fans of the Hawkeyes worldwide. To receive daily news from the Iowa Hawkeyes, sign up HERE.
By RICK BROWN
hawkeyesports.com
 
IOWA CITY, Iowa — You don't need to get deep into a conversation with Reese Morgan to figure out he's excited about the potential of the University of Iowa football team's defensive line.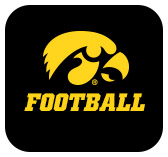 "I love them," said Morgan, who is in his 18th season on head coach Kirk Ferentz's coaching staff and his sixth as the defensive line coach. "How can you not love doing what we do and having the kind of kids we do? They care about each other and they work hard. That's the culture coach Ferentz has built here, and our guys buy into it.
 
"These guys are meshing. The maturity level and the way they feel about each other is interesting."
 
Jaleel Johnson, a first-team All-Big Ten defensive tackle last season, is now with the Minnesota Vikings. Faith Ekakitie, who was the first pick in the Canadian Football League Draft, is also gone.
 
But the other four players in last season's six-man rotation on the front line — tackle Nathan Bazata and ends Matt Nelson, Anthony Nelson, and Parker Hesse — return. There's also emerging sophomore tackle Cedrick Lattimore, true freshman end A.J. Epenesa, and several others competing for snaps in what will be an expanded rotation.
 
"I think we're going to have eight (in the rotation), I really do," Morgan said. "You like six, and six was great for us the last couple of years, but I think we're going to be able to play more guys; we're going to have to. We have more depth overall than we've had."
 
Bazata, a senior, will man one of the defensive tackle positions. He's back on the field after injuring his right ankle late last season.
 
"We have to be smart about how we practice him, but he's back playing and we're excited about that," Morgan said. "He's a strong leader."
 
Junior Matt Nelson and sophomore Anthony Nelson share the No. 1 line on the depth chart at left end. Matt Nelson is trying to get back to 100 percent after breaking his right foot in the spring.
 
"Anthony Nelson is going to be fun to watch,' Morgan said. "He's bigger, stronger, and faster. He's going to be playing a lot of snaps. Matt Nelson is so versatile; he can play a lot of different spots to help us."
 
Matt Nelson has taken snaps at the tackle and end positions during fall camp.
 
"I haven't had a whole lot of experience on the inside, so it's still a little out of my comfort zone," Matt Nelson said. "But I like the challenge."
 
Hesse, a junior, has emerged as one of the team leaders on defense.
 
"If you get into a fight, you want Parker there because he's so competitive," Morgan said. "He hates to lose. That's his best quality. He's hard on himself, which is why he's good. He has high expectations for himself and he's certainly one of our leaders. He's a guy that you trust. He's going to help other people, but he's going to hold them accountable."
 
Hesse moved from linebacker to defensive end late in the 2014 season. He immediately tried to emulate Drew Ott, a standout defensive end who was a senior in 2015.
 
"Drew was a real mentor of mine," Hesse said. "He always tried to have that persona about him, the tough guy. The kind of guy who never backs down from anything. When I watched him, that was something I tried to imitate. I've tried to have that attitude everywhere I go."
 
One player to keep on eye on is the 6-5, 295-pound Lattimore, who went nose-to-nose with Johnson in practice drills last season.
 
Johnson emerged as a force in 2015, after waiting his turn behind Carl Davis. Now Lattimore is in position to do the same thing after waiting his turn behind Johnson.
 
"Jaleel always told me, 'Wait your turn, your time is coming,'" Lattimore said. "Now the time is here. I bring energy, and I'm always willing to work. Physically, you've got to bring it, too."
 
One of the most intriguing candidates for playing time is Epenesa, who has taken snaps both inside and outside in his first fall camp.
 
"He has shown athleticism, size, and the ability to move around and do things," Morgan said. "The thing you like about him the most is he goes to work, and he's a humble kid."
 
Junior defensive end Sam Brincks has also caught Morgan's attention.
 
"Sam has a great knowledge of the defense," Morgan said. "That knowledge allows him to play faster."
 
Sophomore tackles Brady Reiff and Garret Jansen are also in the mix for playing time, as are guys like freshman ends Chauncey Golston and Brandon Simon and senior tackle Jake Hulett.
"There is nobody that has everyone going, 'Wow,'" Morgan said. "But the sum of the parts is what we're looking for. The unit together is stronger than one individual."