Hawkeye Fan Shop — A Black & Gold Store | 2017 Football Season Tickets | Kinnick Edge | Fight For Iowa | 2017 Football Fall Camp Central
Editor's Note: The following first appeared in the University of Iowa's Hawk Talk Daily, an e-newsletter that offers a daily look at the Iowa Hawkeyes, delivered free each morning to thousands of fans of the Hawkeyes worldwide. To receive daily news from the Iowa Hawkeyes, sign up HERE.
By DARREN MILLER
hawkeyesports.com
 
IOWA CITY, Iowa — Think Iowa football, think winning at a high level by running the ball.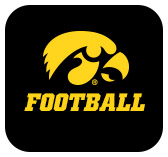 For a program as successful as Iowa has been at chewing yardage on the ground, it might come as a surprise that only three Hawkeyes have produced back-to-back 1,000-yard rushing seasons.
 
Akrum Wadley could be the fourth.
 
Wadley was part of the two-pronged dynamic offensive backfield last season that picked up 2,234 yards. LeShun Daniels, Jr., ran for 1,058 and Wadley — then a junior — led the team with 1,081. That puts Wadley in line to be the first Hawkeye to rush for 1,000 yards in consecutive seasons since Fred Russell in 2003 (1,355 yards) and 2002 (1,264).
 
Repeating as a 1,000-yard rusher is on Wadley's to-do list during his final season.
 
"Definitely, I don't see why it wouldn't be," he said. "We have a great line returning. If that is what it comes down to, that's a great thing."
 
The other Hawkeyes with back-to-back 1,000-yard seasons on the ground are Sedrick Shaw (1,002 in 1994, 1,477 in 1995, 1,116 in 1996) and Ladell Betts (1,090 in 2000 and 1,060 in 2001). Prior to 2016, the last time a Hawkeye rushed for 1,000 yards in a season was Marcus Coker in 2011.
 
A third-team All-Big Ten performer, Wadley is coming off the 13th-best single-season rushing total in school history and sits 18th on Iowa's career rushing list with 1,763 yards and 18 touchdowns.
 
Four of the five offensive linemen that started the 2017 Outback Bowl and helped Iowa win the Joe Moore Award as the outstanding offensive line unit return in Ike Boettger, James Daniels, Boone Myers, and Sean Welsh. That quartet has a combined 78 career starts.
 
Wadley, who sat out most of spring camp, should be in line to tote the ball at least as many as the 168 carries he had as a junior. As he did in 2016, Wadley can expect sufficient time to catch his breath with the addition of graduate transfer James Butler and a maturing group of understudies in junior Marcel Joly, sophomore Toks Akinribade, and freshmen Kyshaun Bryan, Ivory Kelly-Martin, and Toren Young.
 
"Toks, Toren, Marcel, Ivory, Kyshaun, they have all improved in their own ways," Wadley said. "Toren has been making huge leaps, Toks is cleaning up things. We are all working together and pushing each other."
 
Brian Ferentz begins his sixth season on the Iowa coaching staff after being elevated from offensive line coach to offensive coordinator and running backs coach. Wadley likes what he sees during the first two weeks of fall camp.
 
"Coach Brian Ferentz is a genius, he's putting in new install every day," Wadley said. "It's different looks. We need to execute and it comes down to winning. If you win, it's going to be fun."
 
Over the final four games of the 2016 season against Michigan, Illinois, Nebraska, and Florida, Wadley rushed for 417 yards and two touchdowns with three 100-yard games. Still, memory of the end of the 2016 season — as well as the end of 2015 and 2014 — linger.
 
Wadley has been part of 35 wins over the past four seasons, but he was a sophomore at Weequahic High School in New Jersey the last time the Hawkeyes finished a season with a bowl victory.
 
Now Wadley is motivated for a triumphant exit to his career. When it comes to expectations, there is one at the forefront.
 
"Finishing the season stronger than we have in previous years," he said.