Hawkeye Fan Shop — A Black & Gold Store | 2017-18 Men's Basketball Ticket Wait List | European Tour Central | Venice Photo Gallery
By MATTHEW WEITZEL
hawkeyesports.com
VENICE, Italy — There's something special when you are able to travel abroad with your teammates and experience a trip of a lifetime. Your teammates and coaches are like family. For Tyler Cook and Luka Garza, underclassmen on the Iowa men's basketball team, having your parents and other extended family members join in the experience is extra special.
 
Cook's parents Trent and Stephanie met the team in Switzerland and saw the Hawkeyes' final three exhibition games. Cook said it has been awesome having them along.
 
"I didn't know if they were going to be able to make the trip or not but it's great to be able to have them here with us," said the sophomore forward. "I was able to take them out to dinner a couple night's ago, so it's been great being able to share this experience with them."
 
Cook's father said this year's players are an awesome group and that he has never met a Hawkeye he hasn't liked.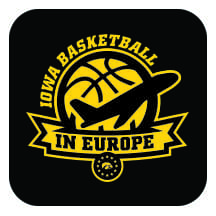 "This has been a fun experience for us as a family," said Trent. "To be able to support Tyler and the Hawkeyes abroad has been memorable."
 
Garza had a number of family members watch him play his final game in Vicenza. Garza is half Bosnian and family members drove as far as 12 hours away to watch Garza record a double-double (24 points and 14 rebounds) on Monday.
 
"For Luka's grandfather, who is almost 80-years-old and a hero in Yugoslavia as a soccer player, to see him play was very meaningful," said Garza's father, Frank. "I'm so happy that he is surrounded by high-caliber guys and a coaching staff that is like his family here. This is great because this setting of family is exactly what exists at Iowa and for him to have a taste of it here for his first games as a collegiate player is special."
 
Garza said seeing family in the stands the last two games was added motivation.
 
"It was exciting seeing a lot of my extended family here for the last game because I haven't seen them in a long time," Garza said. "Being able to play my first games and see my family is very special. I used to come over here all the time as a kid in the summer months; they used to watch me play basketball as a kid and for them to see me now is truly special."
 
Now that the games are over the team is able to enjoy a couple days of sightseeing before heading back to the United States. After a walking tour along the canals of Venice Tuesday morning, the team had the rest of the day to explore the unique city of Venice, which is made up of 117 small islands.
 
The team will take a gondola ride along the Grand Canal of Venice on Wednesday.