Hawkeye Fan Shop — A Black & Gold Store | 2017 Football Season Tickets | Kinnick Edge | Fight For Iowa | 2017 Football Fall Camp Central | Notes vs Wyoming | Coach Ferentz Transcript
By DARREN MILLER
hawkeyesports.com
 
IOWA CITY, Iowa — Iowa and Wyoming haven't met often or recently on a football field.
 
But when the Hawkeyes and Cowboys previously tangled, they have been close, competitive contests. University of Iowa head football coach Kirk Ferentz expects the same Saturday when the teams open the 2017 season inside Kinnick Stadium.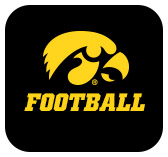 Wyoming returns 15 starters from a bowl team that finished 8-6 a year ago, winning the Mountain Division of the Mountain West Conference with a 6-2 record. Five of the six teams in Wyoming's division finished with winning records and Boise State and Air Force won 10 games apiece. The Cowboys return quarterback Josh Allen, one of the top players in college football.
 
Translation? There is no time for Iowa to ease into the season.
 
"If you play college sports, you need to respect what it takes to win and realize that we don't get to play Fort Couch Middle School here," Ferentz said Tuesday at a news conference in the Stew and LeNore Hansen Football Performance Center. "Week in and week out, you've got to understand that it's hard to win a college football game."
 
It has been three decades since Iowa and Wyoming last met in the Holiday Bowl, a 20-19 victory for the Hawkeyes. This Wyoming team appears primed once again for the postseason.
 
"Once you look at the film, you know you're seeing good football, and we're watching these guys against BYU, Boise State, San Diego State, who had a good football teams last year," Ferentz said. "We're watching good teams against good teams, and unless guys are sleeping or unless they're just too young to know any better, they realize that we're playing some really good players.
 
"I'm a dumb line coach, but I look at the quarterback and say, geez, that guy is pretty good. That in itself gets your attention, but they're much more than one player. They're a well-coached football team and have a lot of good players."
 
Like Wyoming, Iowa was also bowl bound in 2016 and also returns 15 starters. The Hawkeyes have won three consecutive home openers. The first home setback for Iowa last season was against North Dakota State in Week 3, a school where current Wyoming head coach Craig Bohl coached from 2003-13.
 
"Coach Bohl and his staff have done a great job," Ferentz said. "He went there (four) years ago, they were 2-10 two seasons ago, and converted that into a season last year where they won their division, three points short in the championship game, and came up three points short in their bowl game. They have an excellent football team and we have been impressed in their play."
 
Ferentz was pleased with Iowa's fall camp. He said progress was made and much was accomplished. Now it's time to play for keeps.
 
"We're excited and eager to get started — also a little anxious," Ferentz said. "Any time when you're getting into an opening ballgame, it's a little bit unique for everyone. Basically, we've been competing against ourselves since last spring. So it's about that time. I'm sure everybody feels the same way. It's time to get out and measure yourself against someone that's a little bit different and learn a little bit about your team. We'll certainly learn this week, we'll learn each and every week following."
 
Hawkeye captains for the Wyoming game are Josey Jewell, Matt VandeBerg, Kevin Ward, and Sean Welsh.
 
Those are seasoned veterans; Iowa has seven true freshmen listed on the depth chart.
 
"Those guys have done well in camp and they look as if they can go out and perform," Ferentz said. "That being said, any new player, whether it's a first-year guy or a fourth-year guy that hasn't played, you're going to have some ups and downs. That's just the way it goes. We have to keep that in mind, but we've got an open mind for everybody right now."
 
Iowa and Wyoming will kick off at 11:01 a.m. (CT). The game will be televised by BTN with Kevin Kugler, Matt Millen, and Lisa Byington calling the action.
Tickets still remain and can be purchased HERE.