Hawkeye Fan Shop — A Black & Gold Store | 24 Hawkeyes to Watch 2016-17 | 2017 Football Tickets
IOWA CITY, Iowa – It's been a bit of a homecoming this summer for Iowa football quarterbacks coach Ken O'Keefe since returning to the place he previously spent 13 seasons.
 
O'Keefe served on the Hawkeye's coaching staff under Kirk Ferentz for over a decade before leaving for the Miami Dolphins in 2011. Now returning to the city where he helped Iowa win six bowl games and finish in the top 10 of the national rankings four times, O'Keefe sees a mix of the old and the new.
 
"It's amazing," O'Keefe said of how the city has changed. "It's one big construction boom after another. The University seems like it has rebuilt itself in a way. We have new football facilities here, and the addition of the Children's Hospital and all the growth in the city, it's amazing."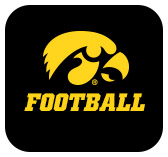 O'Keefe returns to the Hawkeyes with a few fresh faces on the coaching staff with the addition of wide-receivers coach Kelton Copeland, offensive line coach Tim Polasek, and the emergence of first-year offensive coordinator Brian Ferentz.
 
"Brian has done a great job of blending the knowledge that everybody brings to the table and uses the strength that every individual on our staff has," O'Keefe said. "It's been a huge benefit and he has done an outstanding job of bringing it all together."
 
However, O'Keefe had an important task to complete during camp with an open quarterback competition between sophomore Nate Stanley and junior Tyler Wiegers.
 
With Stanley being named the starting quarterback, it wouldn't be the first time O'Keefe had a young quarterback take the reins during his tenure at Iowa.
 
"Not one guy has been the same," O'Keefe said of starting young quarterbacks. "They all go about their business a bit differently. There is no evidence to compare or contrast these guys until we play our first game on Saturday."
 
And during Stanley's first career start on Saturday, it will be reassuring for the Menomonie, Wisconsin, native to have a lot of experience in the backfield to help him settle in.
 
"Those guys have done a great job all camp," O'Keefe said of the running backs. "James Butler is the new addition, but he is a seasoned veteran. Their chemistry has been good and they all can do what we want them to do whether it is run the ball, block in protection, or catch in the pass game."
 
The Hawkeyes kick off the 2017 season against Wyoming on Saturday at 11 a.m. (CT) inside Kinnick Stadium (BTN). General admission tickets are available over the phone at 800-IA-HAWKS or online at hawkeyesports.com.