Hawkeye Fan Shop — A Black & Gold Store | 2017 Football Season Tickets | Kinnick Edge | Fight For Iowa | 2017 Football Fall Camp Central | VIDEO: Geno Stone | Hall of Fame Spotlight: Robert Gallery
By DARREN MILLER
hawkeyesports.com
 
IOWA CITY, Iowa — Like 70,000 others, Erin Stone will cheer for her son, Geno, inside Kinnick Stadium on Saturday. That seemed unlikely a few days before Signing Day in February.
 
Hawkeye fans will love what they see from Stone, a 6-foot, 195-pound true freshman safety. And if they meet Erin, they should extend a hearty thank you. Here's why: Erin is a single parent and during the recruiting process, Stone kept proximity to his mother at the forefront of his decision.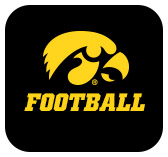 "I was trying to think about being away from her and being close to home," Stone said Tuesday after Iowa's practice.
 
Stone wasn't wildly sought-after by Power 5 programs, but he had his pick of schools in the Mid-American Conference and Ivy League. He found the hour drive from his home in New Castle, Pennsylvania, to Kent State University in Kent, Ohio, attractive, and about two months before signing day, he verbally committed to become a Golden Flash.
 
Then the University of Iowa called. Defensive coordinator Phil Parker stopped for a home visit and dined with Stone and his family.
 
"I felt the connection starting right there," Stone said.
 
Soon after, Stone visited Iowa City and was further impressed.
 
"When I came here it was a different atmosphere," Stone said. "Everything blew me away, the facility, the people were so nice, and the coaching staff was great."
 
But something kept Stone from committing to Iowa and living farther away from home. That something was his mother, Erin, who sat the future Hawkeye down in late January and gave her blessing for him to fly from the nest.
 
"I grew up with just her my whole life," Stone said. "Whenever (my mom) told me it was time to go away and pursue my dream somewhere else, that is when it hit me that I should pick this school. I was being hard-headed because I didn't want to be away from home, but something clicked when my mom told me it was time to be away from home."
 
During his first fall camp, Stone earned a spot on the depth chart as a second string free safety. He is one of seven true freshmen listed on the depth chart for Iowa's season opener against Wyoming on Sept. 2 at 11:01 a.m. (CT).
 
Head coach Kirk Ferentz said Stone made a late charge with a big showing at an Aug. 18 scrimmage at the Kenyon Outdoor Football Practice Facility.
 
"(He) basically shows up where the ball is, and that's a good trait for a safety," Ferentz said. "He made some plays that you don't see guys make every day, just getting the ball out, that type of thing. He seems to have a good feel for the game. We thought that when we recruited him, but you're never quite sure until they get on campus. He has hit the ground running."
 
At Senior High School in New Castle, Stone played defensive back, wide receiver, and quarterback. He finished his career with 200 tackles and 17 interceptions — 10 picks came during his senior season when he was named first team all-state.
 
Stone found a sport for every season in high school, also lettering in basketball and track and field. The largest crowd he played in front of was at a basketball game with an attendance of approximately 10,000. He can expect to multiple that by seven this Saturday.
 
"I want to embrace everything," Stone said. "It's the first time I have played in a college football game, Division I, Big Ten, I want to take everything in and not take it for granted."
 
Maybe coincidence, but the night Stone opened everyone's eyes at the scrimmage, Bob Sanders, another lightly recruited defensive back from western Pennsylvania, was in attendance. Stone was familiar with Sanders because his uncle and high school coach played against the NFL great when he prepped at Cathedral Preparatory School in Erie.
 
"When (Sanders visited camp) I kept asking him about how he felt coming from PA to here," Stone said. "I kept asking him for tips and picking his brain all the time, trying to get more information from him."
 
The transition from high school life in Pennsylvania to college life in Iowa has been remarkably stress-free for Stone.
 
"I miss home, but it's not like I want to be home," Stone said. "This is the best place for me now. This is my job and I am happy to be here chasing my dreams."
 
Stone has daily phone conversations with his mother and she has already made a few trips to campus. She will make another this weekend to watch her son play for a Big Ten football power in front of 70,000 fans in one of the most recognizable stadiums in college football.
 
"This was the best choice for me," Stone said.
 
But the assist goes to his mom, Erin.