Hawkeye Fan Shop — A Black & Gold Store | 2017 Football Season Tickets | Kinnick Edge | Fight For Iowa | Photo Gallery | Box Score (PDF)
By RICK BROWN
hawkeyesports.com
 
IOWA CITY, Iowa — Shortly before 11 a.m. Saturday, Nick Easley had one of his dreams come true.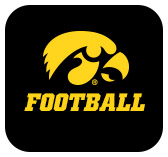 He walked down the tunnel from the locker room in an Iowa uniform, and took the field at Kinnick Stadium in the traditional Swarm.
 
"It was surreal," Easley said after the Hawkeyes opened the 2017 season with a 24-3 victory over Wyoming. "It was always my dream to play here, to take the Swarm out. It was awesome."
 
Easley, a junior walk-on from Newton, made the most of his Kinnick debut. The transfer from Iowa Western Community College caught a team-high four passes from quarterback Nate Stanley for 77 yards, including a 45-yard touchdown in the third quarter that gave the Hawkeyes a 21-3 lead.
 
"They were aggressive on defense and we tried to take advantage by running play action off a play we ran earlier in the game," Stanley said.
 
Easley had run a crossing pattern, then turned up field down the right sideline and gathered in a perfect touch pass from Stanley. Second effort after the catch took him the final three yards to the end zone and his first Hawkeye touchdown.
 
"Nate made a good throw over the top, and I was able to run under it," Easley said. "And you always want to make a good run after the catch."
 
Celebrating with his teammates is something Easley will never forget.
 
"It was a great feeling, coming down with the ball and seeing my teammates running down (the field)," Easley said. "It was a great moment for me."
 
Easley and Stanley also hooked up for a 19-yard gain in the second quarter, a big play in Iowa's first touchdown drive of the season. Stanley threw the ball behind Easley, who had the presence of mind to reach back and pull it in in front of the Wyoming bench at the Iowa 46.
 
"I was running out of space on the sideline," Easley said. "It was probably good he put it there. I was able to stop, turn around, and make that catch."
 
Wide receiver has been a major area of concern for Iowa heading into this season. That concern grew when the Hawkeyes had no passing yards in the first quarter. But Stanley completed 8-of-11 passes over the final three quarters, half the completions to Easley. Two more were to tight end Noah Fant for touchdowns. Wide receiver Matt VandeBerg, back from a foot injury, had the other two receptions.
 
"(Easley) made a couple of good catches today," Iowa head coach Kirk Ferentz said. "He's a guy who has worked hard in practice. We've been encouraged with him. We hadn't seen him play in a game, at least in Kinnick. You can say that about a lot of guys on our team right now.
 
"Last night I was a little anxious, anxious about what I did know. Some things you don't know, but what you do know can keep you up at night. To see him respond like that, that's got to do a lot for his confidence."
 
Easley was a first-team NJCAA All-American as a sophomore at Iowa Western after catching passes for 954 yards last season.
 
Easley knew that walk-ons have traditionally received a fair shake at Iowa, and the Hawkeyes were his dream school.
 
"I've always known that Iowa has done a good job with walk-on players and they've had a lot of good success stories," Easley said. "That was a contributing factor to coming here."
 
Now he has the memory of a lifetime, a touchdown in his first game at Kinnick Stadium.
 
"That was a great feeling, walking out of Kinnick with a win," Easley said.