Hawkeye Fan Shop — A Black & Gold Store | 2017 Football Season Tickets | Kinnick Edge | Fight For Iowa
By JAMES ALLAN
hawkeyesports.com
 
IOWA CITY, Iowa — It's going to take everybody when the University of Iowa football team travels to Ames, Iowa, to face Iowa State in the Iowa Corn Cy-Hawk Series.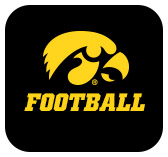 The rivalry game featuring Iowa (1-0) and Iowa State (1-0) is slated to begin at 11:01 a.m. (CT) Saturday from Jack Trice Stadium.
 
"We're going into a tough environment against a good football team," UI head coach Kirk Ferentz said during a Tuesday news conference in the All-American Room inside the Stew and LeNore Hansen Football Performance Center. "We're going to need everybody and all of our guys that have played are going to need to play their best.
 
"That's going to be true all season long, but especially early in the season when our younger guys are getting their footing."
 
One of those underclassmen — sophomore quarterback Nate Stanley — made his first career start Sept. 2 in the Hawkeyes' 24-3 victory over Wyoming. Now comes Stanley's first road test.
 
"It's about as tough as it's going to get for him," said Ferentz. "It will be another measure. The good thing is, he went through some adversity (against Wyoming) and responded well. That was encouraging and his teammates supported him well.
 
"I'm sure he'll be in those situations again this weekend and hopefully we can push through it and find something good."
 
Saturday will be a chess match between strengths: Iowa's defense against Iowa State's offense.  The Cyclones scored 42 points in a season-opening 42-24 victory over Northern Iowa; the Hawkeyes surrendered 233 yards of total offense against Wyoming.
 
"It's one game, so we're not ready to make judgments about the defense, but we're pleased with the way we played and the most positive this was our responses to the bumps that took place," said Ferentz. "Our defense never broke stride and they went out and responded in a positive way. 
 
"It was a big positive, probably as good a thing as I saw out there."
 
Iowa State racked up 405 yards against the Panthers. Quarterback Jacob Park completed 27-of-35 attempts for 271 yards with two touchdowns, Iowa State's top three receivers made 21 receptions for 238 yards, and running back David Montgomery rushed 14 times for 82 yards and two touchdowns.
 
"They are a good offensive football team," said Ferentz. "They do a nice job with their scheme and are very comfortable with it. They have a veteran quarterback, the running back is really good, and they stretch you from sideline to sideline.  They are good at what they do."
 
The Hawkeyes have won the last two meetings at Jack Trice Stadium, winning 27-21 in 2013 and 31-17 in 2015.  Iowa has won six of the last nine meetings in the series dating back to 2008.
 
"This is my 28th involvement in the series, so I feel fortunate to be part of it and I relish every opportunity to get a chance to coach; it's a good thing," said Ferentz. "This game means an awful lot to our players.
 
"We have 23 players in our two-deep that grew up in this state and 57 on our roster from Iowa.  They grew up watching this series and know what it means, the interest, and what's at stake for everybody involved."
 
Saturday's game will be televised on ESPN2 with Jason Benetti, Kelly Stouffer, and Julie Stewart-Binks on the call.