Hawkeye Fan Shop — A Black & Gold Store | 2017 Football Season Tickets | Kinnick Edge | Fight For Iowa | Kirk Ferentz Transcript PDF | VIDEO — Ferentz Talks North Texas | North Texas Game Notes PDF
By DARREN MILLER
hawkeyesports.com
 
Somewhere in Kirk Ferentz's office is a folder with notes from Iowa's football game against North Texas on Sept. 26, 2015.
 
He won't look at them.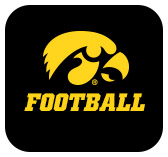 The Hawkeyes won that game, 62-16, on their way to a perfect 12-0 regular season. But the Mean Green have a new coaching staff, 3-4 defense, speed, and an up-tempo Air Raid offense that makes everything that happened in the game two years ago obsolete.
 
"It's a whole different preparation," Ferentz said Tuesday at his weekly news conference in the Stew and LeNore Hansen Football Performance Center. "I don't even know if I can find my notes from two years ago. They're back there somewhere. You don't really need them."
 
Iowa will see a fast-paced offense that averages 580.5 yards and 45.5 points per game. North Texas quarterback Mason Fine averages 34 attempts and has a 69.1 completion percentage.
 
"They know what they're doing," Ferentz said. "They know where to go and pose a lot of threats with a running quarterback. They have a well-conceived offense, but most importantly, the quarterback's a good trigger guy."
 
Another challenge for Iowa is preparing for a 3-4 defense, something the Hawkeyes did not see during victories over Wyoming and Iowa State.
 
The Mean Green, who played in the Heart of Dallas Bowl last season, opened with a 59-14 win over Lamar before losing 54-32 at SMU.
 
"We have a lot to work on at this point," Ferentz said. "I know they'll be ready. Our job is to make sure we're ready for that challenge."
 
In week one against Wyoming, Iowa held quarterback Josh Allen in check and the Cowboys without a touchdown. Last week on the road, the Hawkeyes compiled 497 yards and 44 points.
 
"Offense, defense, special teams can work together consistently," Ferentz said. "We haven't established that by any stretch. Being 2-0 is good, but it really doesn't mean anything if we're not improving this week."
 
The medical update wasn't favorable. Senior offensive right tackle Ike Boettger has an Achilles tendon injury and will be out 4-6 months. True freshman Tristan Wirfs, who has yet to play this season, is listed at second string right tackle behind senior Sean Welsh. Junior Ross Reynolds will start at left guard, where he started against Wyoming.
 
"We've been leaning in that direction (to play Wirfs) anyway, so right now we have to plan like he will play at some point because we're running out of depth," Ferentz said. "We've been practicing with him on the second team, pushing him forward as if he were going to play."
 
Ferentz would like to limit the work load of senior running back Akrum Wadley, who carried the ball 28 times, caught four passes, and returned three kicks during the 44-41 overtime win at Iowa State. That was 10 more touches than he had in the first game.
 
"We'll try to balance that out a little bit, and there is no reason we can't," Ferentz said. "We hav other guys that are doing a good job. But you get in a game like (Iowa State) and you have to do whatever you have to do, and he wasn't complaining. I didn't hear him say one word about it.
"He wants to carry the ball, he wants to catch it, and he wants to help the team. But we have to see the big picture and be smart about things."
 
Iowa and North Texas will kick off Saturday at 2:35 p.m. (CT). It is the annual Gold Game and all fans are encouraged to wear gold.