Hawkeye Fan Shop — A Black & Gold Store | 24 Hawkeyes to Watch – 2017-18 | Fight For Iowa | Hawk Talk Monthly — September | 2017 Football Tickets
By JACK ROSSI
hawkeyesports.com
IOWA CITY, Iowa — Iowa assistant football coach Tim Polasek's first two weeks of the season have had ups and downs, but the first-year offensive line coach isn't intimidated by the Hawkeyes' storied history at the position.
Polasek was brought onto the staff in February after spending nine of the last 10 seasons at North Dakota State where he coached multiple positions, including serving as the offensive coordinator and running backs coach for three seasons. Polasek helped a Bison team that won multiple FCS national championships during his tenure.
Polasek now moves from FCS to FBS where he takes over the Hawkeyes' strength — the offensive line.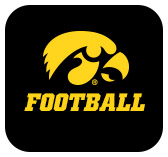 "We're making steady progress," Polasek said of Iowa's offensive line. "Obviously, we want to see the group move along as fast as possible. We are always pushing to be better. I don't know that you will ever reach your expectations because you are chasing perfection and hopefully you reach excellence along the way."
A big change for Polasek was his transition from coaching one or two players in the backfield to five guys that need to work as a cohesive unit, and Polasek has not shied away.
"I now have to grade five guys instead of one or two guys like at my previous place," he said. "You need to be very detail oriented at meetings with film and notes too because one issue for one guy on one side of the line is a different issue for another guy."
The Hawkeyes' strong presence in the NFL is led by their 10 offensive linemen, and so working under both head coach Kirk Ferentz and offensive coordinator Brian Ferentz, who both have NFL experience, have provided the best resources a coach could ask for.
"I can honestly say I am learning something every day," Polasek said. "The amount of growth and knowledge you are gaining day-to-day from Brian Ferentz and coach Ferentz is great and you have to take it as it is and you have to appreciate it."
A unique aspect about Iowa is that its offensive linemen are Swiss army knives on the line and can play multiple positions, making it easier to shift players around if needed, but there can be some differences along the way and that is where coaching steps in.
"It's different from the standpoint of inside and outside zone concepts," Polasek said. "We take the same kind of footwork on the backside that we do on the front side. Some guys are better at it than others, but I think pass protection is where it can get difficult. I appreciate the guys looking at it like being offensive linemen and not as just right tackle or a left guard."
The Hawkeyes return to Kinnick Stadium on Saturday against North Texas at 2:35 p.m. (CT) (ESPN2). Tickets are available at hawkeyesports.com or over the phone at 1-800-IA-HAWKS.