Hawkeye Fan Shop — A Black & Gold Store | 2017 Football Season Tickets | Kinnick Edge | Fight For Iowa
Editor's Note: The following first appeared in the University of Iowa's Hawk Talk Daily, an e-newsletter that offers a daily look at the Iowa Hawkeyes, delivered free each morning to thousands of fans of the Hawkeyes worldwide. To receive daily news from the Iowa Hawkeyes, sign up HERE.
By JAMES ALLAN
hawkeyesports.com
 
IOWA CITY, Iowa — The University of Iowa offensive line is reshuffling heading into the third week of the college football season.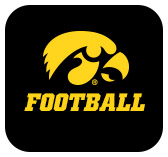 The Hawkeyes' depth took a hit in the week two Iowa Corn Cy-Hawk Series victory at Iowa State when starting right tackle Ike Boettger went down with an Achilles tendon injury.  It's a setback that will cost Boettger the remainder of his senior season.
 
"It's tough," said senior Boone Myers. "It's the last thing you want for a guy in his senior season. You don't wish it upon anybody, not even your enemies.  It's something that rips your heart out."
 
Boettger started 21 games the past two-plus seasons. His immediate loss shifts starting guard Sean Welsh to offensive tackle and juniors Ross Reynolds and Keegan Render will assume starting guard responsibilities. Reynolds started at the position in the season-opening win over Wyoming.
 
"Wherever you put (Sean) he does well," said UI head coach Kirk Ferentz. "He's one of those football players.  We've had him everywhere and it doesn't seem to bother him. He looks the same, keeps playing, and it doesn't seem to affect him mentally or physically."
 
When Boettger went down in the third quarter at Jack Trice Stadium, the Hawkeyes didn't miss a beat.  Iowa went on to close out its 94-yard touchdown drive, pushing the lead to 21-10.  The reshuffled line paved the way for 23 points and 256 yards over the final two quarters and overtime in a 44-41 victory.
 
"It's huge being able to have different guys come in and continue to move on and not have a hiccup," said sophomore quarterback Nate Stanley. "It helps during the game when you can continue to run productive plays. (Offensive line) coach (Tim) Polasek stresses that and we practiced that in camp and up to this point."
 
Stanley says the offensive line has continued pushing forward this week leading into Saturday's nonconference finale against North Texas.
 
"The offensive line has done a great job responding and they're going to continue doing that," said Stanley. "Coach Polasek does a great job having the offensive lineman ready to play whatever position they're needed at.  They've all done a great job."
 
One of those players is Myers — a player with 22 starts, the second most on the offensive line.  The Webster City, Iowa, native isn't among Iowa's first-team unit, but he's versatile cog as the backup at both the left offensive guard and tackle positions.
 
"I told coach I will play wherever they need me, whether that's punter or wherever," said Myers. "(Regardless of where you play) you have to prepare the same way. I am at two positions right now, so I'm learning left tackle and left guard and watching the right side, too. 
 
"We have a lot of guys that can play a lot of positions. Our coaches are putting the pieces together and finding a good lineup for us moving forward."
 
Saturday's game will kickoff at 2:30 p.m. (CT) inside Kinnick Stadium.  Tickets are available by visiting hawkeyesports.com or at the UI Athletics Ticket Office.  The game will also be televised on ESPN2 with Anish Shroff, Ahmad Brooks, and Roddy Jones on the call.