Hawkeye Fan Shop — A Black & Gold Store | 2017 Football Season Tickets | Kinnick Edge | Fight For Iowa
Editor's Note: The following first appeared in the University of Iowa's Hawk Talk Daily, an e-newsletter that offers a daily look at the Iowa Hawkeyes, delivered free each morning to thousands of fans of the Hawkeyes worldwide. To receive daily news from the Iowa Hawkeyes, sign up HERE.
By DARREN MILLER
hawkeyesports.com
 
IOWA CITY, Iowa — A year ago this weekend, Nick Easley and his Iowa Western teammates defeated Butler Community College, 49-7, in Titan Stadium in Council Bluffs, Iowa.
 
There might have been 900 fans at the game, watching Easley catch seven passes for 75 yards and a touchdown.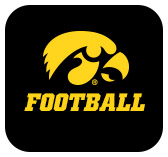 Three hundred and sixty-four days later, the atmosphere has changed drastically for Easley, but the results have not. On Saturday, for the third consecutive game, Easley led all University of Iowa receivers with five catches for 37 yards. A few more sets of eyes are on the 5-foot-11, 203-pound junior receiver these days; the paid attendance for Iowa's 31-14 victory over North Texas was 65,668.
 
"You don't want to let the moment be too big for you, even if it is out there in front of 70,000 people," Easley said. "That is a little different (crowd size) than I have been used to in the past, but it's still the same game."
 
Through three nonconference wins, Easley has 16 receptions for 162 yards and two touchdowns. He doesn't care about statistics, he just wants to be a dependable teammate.
 
"I want to be a guy this team can rely on and who is ready to make plays when my number is called," Easley said.
 
Easley's route to Iowa wasn't direct. He was a 2015 graduate of Newton High School, catching 36 passes for 617 yards and seven touchdowns as a senior, but his only college offers were from Division II schools. His goal was to play at the Division I level, so he enrolled at Iowa Western and suited up for head coach Scott Strohmeier.
 
"The coaches at Iowa Western said I had a good opportunity to raise my stock and status as a recruit," Easley said. "I learned a lot about life and football and ended up here."
 
Part of the temptation was the fact the Hawkeyes returned just one wide receiver — Matt VandeBerg — who had a catch in 2016, and he missed the final nine games because of a foot injury. But more importantly, Easley respected Iowa's program.
 
"I wasn't worried about numbers, but when I found out I was going to be playing a fair amount, I wanted to be as productive for this team as I could," he said.
 
Becoming a Hawkeye seemed a natural fit since his grandmother and both aunts live in Iowa City. His mother, Allison Lemke, commutes a couple days a week as a clinical professor in the University of Iowa's Wendell Johnson Speech and Hearing Clinic.  
 
Despite having a new starting quarterback and a mob of young, untested receivers, the Hawkeyes have 29 more passing yards through three games than they had in 2016. Easley is a big reason why.
 
"Nick continues to work hard every day in practice," Iowa quarterback Nate Stanley said. "What you see on the field is a translation from practice. He comes out every day and works hard."
 
Iowa opened the North Texas game with a 12-play, 77-yard drive that included three catches by Easley. It ended with Easley fumbling the ball through the North Texas end zone meaning no score and a turnover to the Mean Green.
 
"That didn't feel very good," Easley said. "I was hoping the touchdown would stand, but I have to do a better job taking care of the ball and securing it over the goal line."
 
Coincidentally, Saturday's game was the first time all season where Easley did not score. But as he said, statistics are secondary; he is satisfied being a reliable teammate and an available option for Stanley.
 
After three games as a Hawkeye, he has become both.